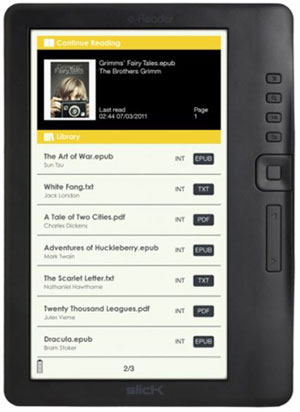 I just stumbled across a new color ereader and media player at Sears, the Slick 50. At $49 it is one of the least expensive 7″ color ereaders available. It doesn't have any bells or whistles and looks about as cheap as the price would suggest, but the two reviews are positive, if they are real.
The best thing going for the Slick 50 is that it ties in with Kobo
for ebooks, which means it supports Adobe DRM'd ebooks and library ebooks, not just DRM-free ebooks as is often the case with cheap ereaders.
Unfortunately the listing at Sears doesn't reveal very much information about the Slick 50 ereader, nor does anywhere else it shows up on using Google search. Here's what we've got:
The Slick 50 has a 7″ display—no touchscreen—and there's no mention of the screen resolution. It looks like it is probably 800 x 480.
It supports ePub, PDF, and TXT ebook formats.
It has a microSD card slot
The Slick 50 has an audio player, picture viewer, and video player (no formats are given).
Rechargeable Li-Ion battery.
If you manage to get your hands on the Slick 50 let us know what you think. It has some potential at $50, as long as it works.