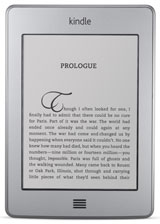 Here's the link to the Kindle Touch review. It ended up taking longer than usual to finish but it's finally done.
The first page of the review covers the general features and ereading features, and includes some pictures and screenshots and a video walkthrough highlighting all the Kindle Touch's features.
On the second page you can find the Kindle Touch PDF review, complete with a video review showing various types of PDF files. The second page also includes some screenshots and information on the new web browser.