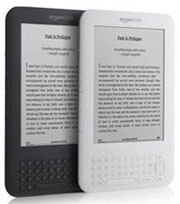 Something has happened to the Kindle Keyboards. They are slowly starting to disappear. About a month ago, Amazon stopped selling the $99 Kindle Keyboard, the one with special offers. And now they've run out of the $139 WiFi-only Kindle Keyboard as well. Both are only available used.
Amazon still has both 3G keyboard models available in both black and white, but it makes you wonder if they are going to be getting more in stock or if they're going to start phasing the Kindle Keyboards out entirely now that the new models have arrived.
Maybe they'll keep the 3G keyboard models around…or maybe not. It could be they just had more of them and haven't run out yet.
It's hard to imagine Amazon dropping the keyboard Kindles altogether, even though that's how it usually works when companies introduce new models. But the keyboard has been such a fixture of the Kindle brand, and all the Kindle games and active content were designed for it—only a fraction of which work on the new Kindles.
Plus there's the fact the Kindle Keyboard offers features neither of the new Kindles have. Unlike the Kindle Touch, it has free 3G web browsing and it offers screen rotation and in-book Wikipedia and Google search.
Also, the Kindle Touch is only sold in the US right now, leaving lots of potential buyers out of the mix. The Kindle 4 is sold internationally, but there's no 3G model and the on-screen keyboard is tedious to use for typing notes.
Amazon will likely start selling the Kindle Touch internationally in a month or two. But the question remains: will they start phasing out the Kindle Keyboards altogether? Or will they continue to keep them around for a while longer?