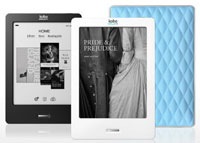 Back in November Kobo announced that they would be sold to a Japanese company called Rakuten. Yesterday the acquisition was finalized: Kobo is now officially owned by Rakuten.
While this may sound like bad news for Kobo, it should actually end up helping them. Rakuten is a very successful e-commerce company and Kobo will continue to operate out of its Toronto headquarters with the same management team.
One of Kobo's goals over the past year and a half was to expand their platform and international presence, and now that's going be even more of a priority. Being apart of Rakuten will provide opportunity to reach a lot more markets.
"While the transformation to digital reading is well underway, it is still in its infancy. As a part of Rakuten, we will accelerate our growth internationally, bringing new products, a leading eReading experience and a world class catalogue to passionate readers everywhere," said Michael Serbinis, CEO of Kobo Inc.
Kobo eBook Discount Codes
While we're on the topic of Kobo, here are some discount codes for ebooks from Kobobooks.com. Like always, these codes won't work with ebooks from these price-fixing publishers: Hachette Book Group, HarperCollins, Macmillan, Penguin, Random House, Simon & Schuster, Wiley, and Zondervan.
jan12us30 – 30% off, expires January 16th.
jan12ca30 – 30% off, expires January 16th.
jan12au30 – 30% off, expires January 16th.
jan12row30 – 30% off, expires January 16th.
c1auto25 – 25% off, expires January 16th.
Kobodollaroff – $1 off, expires January 31st.