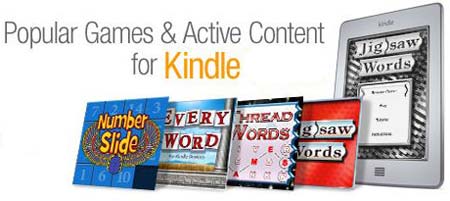 Perusing the Kindle store this morning, I noticed several new Kindle games and active content available for Kindle E Ink ereaders.
I also noticed some of the older games have been updated to support the Kindle 4 and Kindle Touch. So if you have either of the new Kindles, now would be a good time to check out the games and active content section, which includes plenty of freebies too.
*Make sure to hover your mouse over the "Available on these devices" link located below the price to see if the application supports your Kindle model.
Blackjack
Blackjack is a popular free game for Kindle that was just updated a couple of weeks ago to add support for the Kindle Touch and Kindle 4. It's a fun game to past the time when you don't want to read.
Hamster Habitat
Hamster Habitat is a new free puzzle game that Amazon recently added to the Kindle store. Basically the goal is to put together all the pieces of a hamster cage with tubes zig-zagging around obstacles.
Poker Squares
Poker Squares is a new Kindle game that was released last week. It's a combination between Poker and Solitaire where you play multiple Poker hands at once in a 5 by 5 grid to accumulate points.
BATTLESHIP (The Original Naval Combat Game on Kindle)
Back in December, Electronic Arts released the classic Battleship game for Kindle, although the Kindle Touch isn't yet supported. I haven't tried this game but it looks promising. It has four and a half stars with 19 reviews and costs $4.99.
According to the description, the game has a solo mode for playing against the AI and a two player mode for playing with a friend. It includes the classic Battleship game as well as two new game modes: Salvo and Super-weapons. Here's more from the description:
In Salvo, you get to make as many attacks per turn as you have ships remaining. In Super-weapons mode, you can launch strikes that create devastating patterns with multiple shots in a single attack. Demonstrate strategic and tactical skills to unlock new Super-weapons and improve your rank from Seaman to fully-fledged Admiral.
Brick Arcade for Kindle
Brick Arcade is a pretty cool new game for Kindle that was just releases a couple of weeks ago. It works with the newer Kindles as well as the older models. Basically you guide a paddle across the bottom of the screen to bounce a ball off of it to destroy patterns of bricks. Here's a look…
LINGO for Kindle
If you've ever watched the Game Show Network, then you've probably seen LINGO, a popular word game. It's somewhat surprising to see the TV show game made available on the Kindle. But why not, words games are always popular. It has 1 and 2 player modes and comes with over 250 word games.
Castle Dungeon
Castle Dungeon is a new adventure role-playing game for the Kindle. Here are the details from the description:
Use the controller to navigate through all 20 floors of the dungeon on your way to meet the guardian dragon. Find the best magical armor and weapons to become more powerful. Each game is a different adventure with a randomly-generated environment, monsters, and treasure.

Not enough health? Wear that Adamantium Helm of Constitution you just found. Having trouble hitting? Put more points into dexterity the next time you level up. You get to decide how to build your character to beat the skeletons, mummies, and ogres blocking your path.
Gem Falls
Gem Falls was released for the Kindle just last week. It's sort of like Tetris but with gems instead. Gems fall and you choose which column to put them in and then the gems explode when three like gems align.
Poker of the Dead
Poker of the Dead is one of the most unusual Kindle games. It combines zombies with Texas Hold'em. The zombies play by different rules since they have no brains: they never fold and always call your bet. Here's a campy trailer…