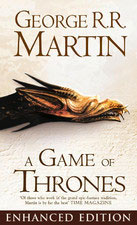 As ebooks continue to evolve, publishers and authors are coming up with new ways to add enhanced content to them, such as audio and video and other potentially distracting goodies.
A Game of Thrones, the first book in George Martin's epic A Song of Fire and Ice series, is now available as an enhanced ebook, but only in the UK for some reason.
The enhanced version of A Game of Thrones features an interactive map that tracks the main characters throughout the book and provides additional information about the characters. It includes embedded audio clips from the audio book read aloud by Roy Dotrice.
Here's more from the presser:
In addition to the dynamic map, the ebook also features two exclusive new maps featuring detailed renderings of King's Landing and The Wall, and presents readers with a fully hyperlinked glossary, allowing them to look-up character details and family lineage at any point in the plot. Thirteen audio clips, featuring award-winning actor Roy Dotrice's rendering of Martin's epic, are also integrated throughout the novel.
I don't know about the audio content, but the interactive map and hyperlinked glossary adds a lot to a book like this. With so many characters and shifts in view points, it can be hard to keep track of all the characters and where they are and what they are doing all the time.
Unfortunately at this point in time the enhanced version of A Game of Thrones is only available on Apple iDevices and isn't available in the US. You can find it on Amazon and iTunes.
Here's a YouTube video showing the extra features on the iPad:
A Game Of Thrones – Interactive eBook Demo