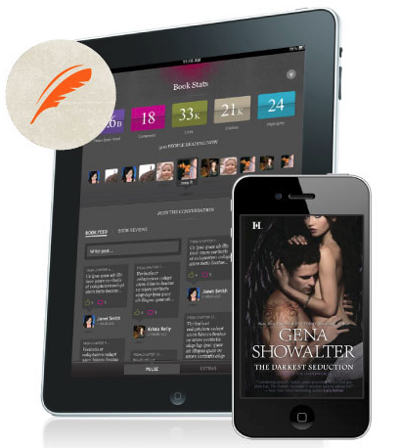 Kobo is rolling out an interesting new feature in some special edition ebooks that gives readers the opportunity to read notes the author has left throughout the ebook and ask the author questions within the ebook using Kobo Pulse, a social feature that ties-in with Facebook.
The description page at Kobo says this feature works with the Kobo app on the iPhone and iPad; oddly the Kobo Vox isn't mentioned even though it comes equipped with Kobo Pulse.
This is how Kobo describes 1:1 Author Chat and Author Notes:
Get to know the author through author notes scattered throughout special edition eBooks
Ask authors questions, plus engage and correspond with your fellow readers
Right now Kobo is highlighting The Darkest Seduction by Gena Showalter for these new features. And between April 16th and April 22nd, readers can chat with Gena Showalter about the book using Kobo Pulse.
This type of feature, being able to read additional notes added by the author and to connect with the author of an ebook you're reading while reading it, has the potential to bring a whole new element to reading.
Who hasn't wanted to ask an author a question about a particular book while reading it? And being able to access additional notes about the development of the plot and characters along the way could be very interesting too.
via: Kobo