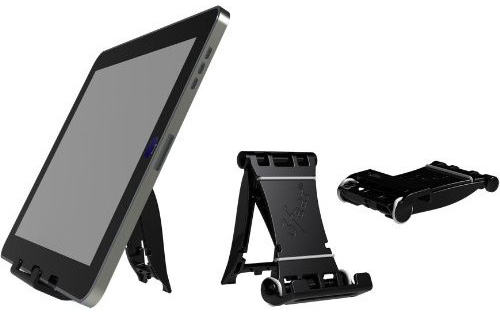 The folks at 3feet sent me one of their 3feet stands to review. It is designed to work with pretty much any gadget, be it an iPad, ebook readers such as the Kindle and Nook, tablets, and even phones.
The 3feet stand is an odd-looking contraption but it is very well-designed and quite sturdy. It comes in a variety of colors and sells for $14.99 from Amazon.
What's cool about the 3feet stand is its foldable design. It starts out at about 1″ thick when folded flat, and then has arms that pull out to adjust the angle, and there's a cradle at the bottom to hold the device in place.
There are two silicon strips on the stand to help hold the device in place and keep it from sliding from side to side. The front of the base also has silicon rings on it to give it some grip.
The 3feet stand has a sturdy design and is well thought out. For instance, when you press down on either of the top corners of a gadget that is sitting in the stand, instead of tipping over or sliding out, it pivots the entire stand. And when you push the top of a gadget, instead of tipping backward, the stand slides back. It is well balanced.
The 3feet stand also has a kickstand that pulls out for even more angles to set your devices at. With the kickstand all the way back it sets the iPad and other tablets at a good angle for typing. It's a little wobbly in kickstand-mode, though; it works okay for typing on the iPad but is better for lighter gadgets.
The stand even has a slot in the base of the front holder so you can charge your gadget while it's on the stand.
All in all, I would recommend the 3feet stand. It works as intended and the build quality is good. It's sturdier than other stands I've tried, especially ones that are built into covers. And it's even made in the United States (that's a shocker).
3feet eReader and Tablet Stand Video Review