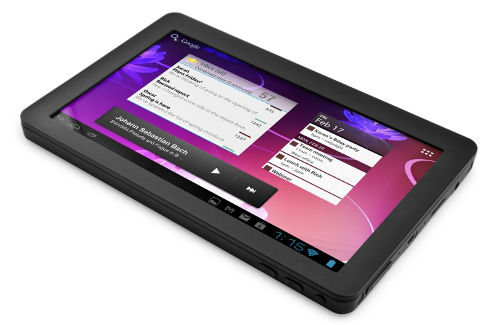 I was doing some research yesterday and came across a couple of new cheap Android 4.0 tablets, the Ematic eGlide Prima and the eGlide Pro III. Both tablets are similar yet different, and they sell for under $120, sometimes as low as $99.
Both have 7″ capacitive touchscreens and come with 4GB of memory, 5GB of cloud storage, a microSD card slot, accelerometer, Wi-Fi, and they come with the Kobo ereading app pre-installed for ebooks.
What's interesting about the eGlide Prima is the listing at Amazon says it is "Google Certified" and comes with Google Play access for Android apps—that's something not often found on $99 tablets.
Other than being Google certified, the eGlide Prima doesn't have any features that jump out. It has a 1.2GHz processor—that's about as technical as the specs get.
The Ematic eGlide Pro III, on the other hand, comes with some hardware upgrades. According to the product page at Walmart, it has a front-facing camera and an HDMI port that supposedly supports 2160p 3D content output to a TV.
However, the Ematic eGlide Pro III doesn't say anything about being Google Certified so likely doesn't come with access to the Google Play store.
Also, the listing at Walmart says the eGlide Pro III has a dual-core 1GHz processor. I highly doubt that is accurate. It may have a dual-core GPU but it is unlikely a $118 tablet made by Ematic is sporting a dual-core 1GHz CPU.
But you never know. Ematic doesn't have either of these tablets listed on their website, and spec sheets are no where to be found.
There's also the Ematic eGlide Prism listed on Amazon, which looks like a mix between the Prima and eGlide Pro III. It also claims it has a "multi-core" 1GHz processor. It sells for $169, but none are available for 1-2 months.
Regardless, I'll try and pickup one of these Ematic tablets at some point to review. The Prima looks to be the pick of the litter with Google apps, but it also has the least amount of hardware features. Ematic should consider adding a few more 7″ models to the mix to make it even more confusing…
Ematic eGlide Prima Promo Video