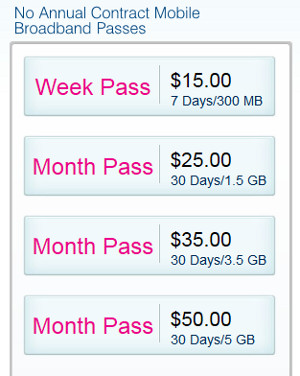 Just in time for the busy travel season, T-Mobile has launched new contract-free data plans for their 4G mobile hotspots and laptop sticks.
Mobile hotspots are the best solution for getting internet access on the go for tablets, ereaders, and pretty much any gadget with Wi-Fi.
The main problem with most mobile hotspots is the plans aren't very good. No one wants to be locked into a 2-year contract for something they aren't going to use all the time. And the contract-free plans are often fairly limited and expensive.
But these new plans from T-Mobile should give the whole industry a shot in the arm. The plans aren't perfect but they are certainly a lot better than what's currently out there.
Here's how the new no-contract data plans break down:
300MB 1-week pass for $15
1.5GB 1-month pass for $25
3.5GB 1-month pass for $35
5GB 1-month pass for $50
By comparison, AT&T and Verizon both offer 1GB for $50 for 30 days. And 300MB for $30 for 7 days. Or $15 for 100MB for 1 day. Verizon's plan for 5GB is $80 for 30 days. Hopefully T-Mobile's new plans get their competitors to revise their pricing and data allowance strategy because those options aren't very good.
Personally, I've been meaning to get a mobile hotspot for a long time now. A tablet without internet access is pretty useless when away from the house, and hunting for unsecured Wi-Fi hotspots that actually work can get very frustrating—not to mention the security issues.
I almost bought a Virgin Mobile MiFi device from WalMart last week and now I'm glad I didn't. The best plan they have is 1GB per month for $20. The T-Mobile plan is $5 more but that's for 1.5GB, plus the speed is much faster with 4G instead of 3G and the data coverage is twice as good where I live.
I'm going to get one of the T-Mobile 4G Mobile HotSpots later this week—they cost $99—and will post a review of it after some extensive testing over the next few weeks. Subscribe to keep updated on my results.