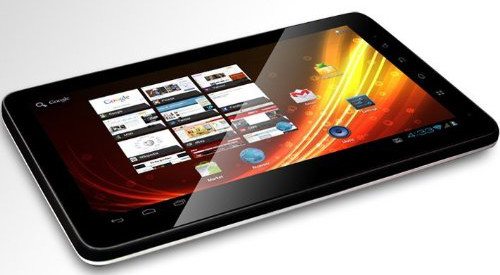 Lately I've been posting about a lot of cheap 7″ Android 4.0 tablets, so to change things up I found a couple of cheap 10″ Android 4.0 tablets. In fact, they are a couple of the least expensive 10-inch tablets I've ever seen.
The Idolian Touchtab 10 and Zenithink C91 both sell from Amazon for $169. These tablets hail from China (big surprise) and appear to be the same exact device just with different brand names on the back.
Like a lot of other budget Android 4.0 tablets on the market today, these both have 1GHz Cortex A9 processors and 1GB of RAM. That's good enough for most tasks such as email, web browsing, ereading, playing videos, music, and some games. The dual-core and quad-core processors found on higher-end tablets are a lot faster and more energy efficient, but they cost about 2 to 3 times as much.
What's most interesting about the Idolian Touchtab 10 and Zenithink C91 is that they both support Google apps—not officially per se, instead both come pre-rooted with the Google Market pre-installed—how convenient.
Like most other budget tablets, you aren't going to get the best screen. The Idolian Touchtab 10 and Zenithink C91 have 10-inch 1024 x 600 resolution screens. That's not horrible. Similar 10-inch Android tablets have 1280 x 800 resolution screens. But to compare with smaller tablets like the Kindle Fire and Nook Tablet, 1024 x 600 is what they have on a 7-inch screen.
Other features for these two tablets include 8GB of storage space, a microSD card slot, HDMI port, 10-point capacitive touchscreen, front-facing 1.3MP camera, Wi-Fi, Ethernet port, headphone jack, mic, speakers, USB port, and accelerometer. Battery life is an estimated 6 hours.
All said and done, that's not a bad set of specs and features for a couple of 10-inch tablets with Google apps that sell for $169, making them worth considering if you don't want to spring for the higher-end 10-inch tablets with faster processors and better screens.
Idolian Touchtab 10 Demo