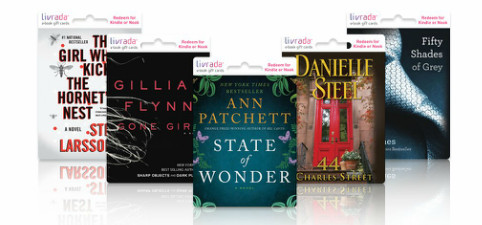 Now here's an interesting new idea for giving ebooks as gifts. Starting July 15th, you'll be able to walk into a Target retail store and pick up a Livrada ebook gift card.
What's interesting about the Livrada gift cards is that they are replicas of the actual book covers. What's more, it doesn't matter what kind of ereader you have; the ebook gift cards allow you to choose where to download the ebook from.
This is certainly a different approach for giving ebooks. The other options usually involve just sending an email gift card to whomever you wish to give an ebook too. Livrada doesn't like the impersonal manner of that. Plus you may not know what type of ereader a person has to send a proper gift card for that specific platform.
Livrada's gift cards on the other hand are meant to focus on the ebook and not platform.
They are launching six New York Times best selling titles in all Target stores on July 15th. Titles include Fifty Shades of Grey, The Girl Who Kicked the Hornet's Nest, State of Wonder, Gone Girl, Charles Street, and Odd Thomas.
According to the Livrada website, at launch the gift cards will only work with Kindle and Nook devices. Seeing as how those two ebookstores are locked into their own DRM schemes, it leaves out a lot of other ereaders.
But Livrada's goal is to expand to include all ebook reader brands. If they get on board with a company like Kobo, for instance, who just uses regular Adobe DRM, then these would be compatible with pretty much any ebook reader out there.
This is a cool new idea and it will be interesting to see how it works out.