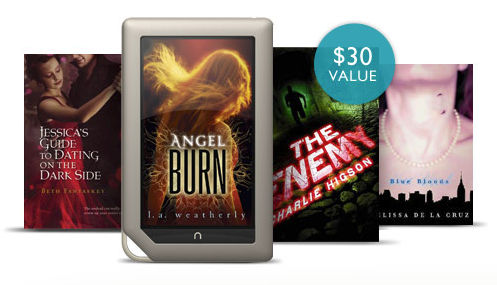 Below is a list of deals on ereaders and tablets as of today, July 17th. But first, here are some discount codes that can be used for ebooks from Kobo.com. Following that there are some for eBooks.com and CengageBrain.
Kobo Discount Codes
80% off Backstage Pass with code olivia80
Older codes still active for Kobo eBooks:
ac4auto45 (45% off)
c4auto45 (45% off)
c4auto40 (40% off)
ac3auto35 (35% off)
c2auto35 (35% off)
c3auto35 (35% off)
c4auto35 (35% off)
1x2590us (25% off)
1x2530us (25% off)
2x25180us (25% off)
eBooks.com Discount Codes
Use code Categorysalecp to get 20% off these categories at eBooks.com
:
Photography
Poetry
Law
Music
Travel
CengageBrain Discount Codes
Take $20 off your $100+ purchase on CengageBrain.com
. Enter code: FBTS20 (excludes Aplia Products & microsite discounted products). Valid 6/1/12 – 8/1/12 Only!
Receive 5% off your $150+ purchase at CengageBrain.com
. Enter code: FBTS5OFF. Valid only on Audio, Audio study tools,Print, eBook, and eChapter products. Excludes Aplia products. Expires 8/12.
Nook Deals
$179 Nook Tablet 16GB – refurbished
$63 Nook Touch – refurbished
$135 Nook Color – refurbished
Barnes and Noble is running a Teen Nook Books promotion where you get 4 free teen ebooks with the purchase of a new Nook Tablet. The four titles are:
Blue Bloods by Melissa de la Cruz
Angel Burn by L. A. Weatherly
The Enemy by Charlie Higson
Jessica's Guide to Dating on the Dark Side by Beth Fantaskey
Kobo Deals
$39 Kobo WiFi eReader – refurbished
$69 Kobo Touch with Offers (ads)
Kindle Deals
$69 Kindle 4 – refurbished
$129 Kindle Touch 3G – refurbished
Tablet Deals
$249 Asus Transformer TF101 – refurbished
$214 Toshiba Thrive – refurbished
$149 Vizio 8-inch – refurbished
$179 HTC Flyer – refurbished
$94 Pandigital SuperNova – refurbished