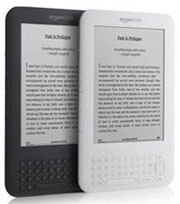 Some folks over at MobileRead have noticed that Amazon is now limiting Kindle 3G usage to just 50MB per month for the experimental web browser.
After hitting the limit you can still use the Kindle's 3G connection to shop and download ebooks, as well as browse Amazon.com and Wikipedia, but all other 3G web browsing gets shut off once you reach 50MB.
This new policy mostly applies to older Kindles like the Kindle Keyboard and Kindle DX since Amazon removed the ability to browse the web over 3G on the Kindle Touch, and there's no 3G option for the Kindle 4 at all.
Amazon's touted free 3G feature is getting more and more useless all the time.
And it's probably in part because awhile back some jerks discovered a hack to tether a Kindle to a computer to use its free 3G connection for whatever they wanted.
It seems this new cap limit was just implemented at the start of July. There isn't really much information about it at Amazon; there's just this little snippet:
The Experimental Web Browser is currently only available for some customers outside of the United States and may be limited to 50MB of browsing over 3G per month. This limit does not apply when customers are browsing over Wi-Fi.
That statement makes it sound like the limit may just apply to international Kindles and not Kindles in the US. Any US Kindle owners out there get a 50MB limit web browsing notice?