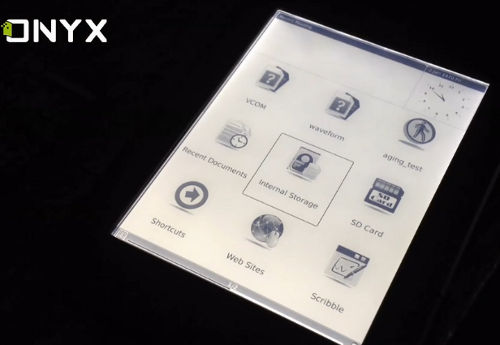 Editor's Note: This article was written by Jim Savitz, a regular reader of this blog. If you have an ereader or ebook related article or news tip you'd like to submit, feel free to send me an email.
A couple of months ago Nathan posted a brief review about a new e-ink e-reader from Onyx Boox called the i62HD which has a 6 inch high resolution (1024 by 758 pixel) screen.
But more significantly, based on discussions in this blog, several people are interested in whether this e-reader would get a lighted screen, which now appears to be close to a reality. There are also rumors that this e-reader may be Android based since Onyx has been using their own Linux builds. I wouldn't discount use of Linux since Onyx has some of the most robust firmware functionality of any ereader.
Onyx Boox has posted a demonstration video which you can view complete with Chinese pre-roll commercial here:
There is speculation that this product is far enough along that Onyx could beat Amazon to the punch and get a lighted screen Onyx Boox i62HD out sooner. Onyx appears to be calling the unit the Onyx-Boox Touch.
I recently purchased an Onyx Boox i62HD and just received it last week. This HD screen is to e-ink readers what the Apple Retina display is to tablets, absolutely amazing. The firmware/software is similar if not identical to the Onyx Boox M92. I'm impressed with how you can easily read small type (and I have old eyes!) I'll post more comments/observations once I've had a chance to work with it some more.