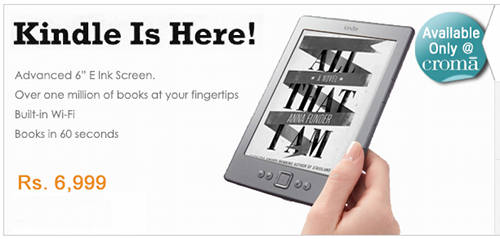 If you live in or just happen to be strolling through India you can now purchase Amazon's E Ink Kindle from Croma retail stores throughout India and buy Kindle ebooks from Amazon's new India-specific Kindle Store.
The India Kindle Store is launching with over 1 million titles, including 70 of 100 Nielsen Bestsellers, and all are priced in Indian Rupees. In typical fashion, Amazon is also claiming they have the lowest prices of any ebookstore in India.
This is a bit different that other regional Kindle Stores like the Spain, Italy, and UK Kindle Stores that are also apart of a regional Amazon website. Instead the India Kindle Store is a new section on the main Amazon.com website at www.amazon.com/kindlestoreindia.
As far as launching the Kindle at Croma stores, not all Kindle models are available, just the latest Kindle, the non-touchscreen model. It sells for Rs. 6999 both in store and online at Croma and Junglee.
A detail I noticed in the press release is that Amazon says "Customers can also continue to purchase Kindle, Kindle Touch and Kindle Touch 3G from Amazon.com with shipment to India". The funny thing is Amazon sells the Kindle DX to India as well but they don't even mention it. Amazon has all but abandoned the Kindle DX and now it's gotten to the point where they don't even mention it in press releases anymore.
Along with the India Kindle Store, Amazon is also launching Kindle Direct Publishing so independent authors and publishers in India can make their work available through the Kindle Store with the ability to set prices specific for India and receive royalty payments in rupees.
For more information check out Amazon's Kindle India help pages.