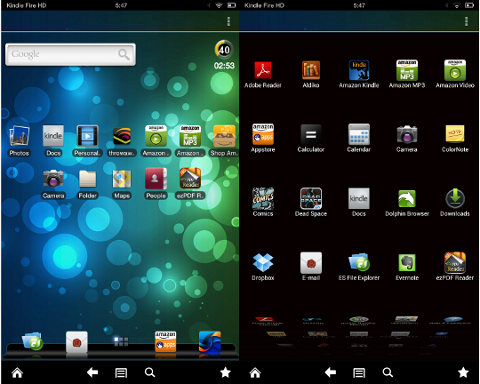 I've got some good news and some bad news. The good news is after trying and failing to get several alternate homescreen launchers to work on the Kindle Fire HD—Nova, Apex, Go Launcher, Zeam, Launcher Pro, and others—I finally came across an alternate homescreen that works. The app is called ADW Launcher EX, and it doesn't require any rooting, hacking, or anything like that.
The bad news is ADW Launcher EX is a paid app, and the only two places I can find to get it are Google Play and AndroidPIT. Too bad the free version of ADW Launcher doesn't work…
Unless you root the Kindle Fire HD, Google Play isn't compatible with the Kindle so obviously that provides some major complications for getting the app from Google. Ironically, rooting would likely be easier.
AndroidPIT is an alternate Android appstore that, in theory, should work with the Kindle Fire HD just fine. But I'm unfamiliar with that particular appstore so can't comment on it one way or the other.
Regardless, the Kindle Fire HD was designed to keep alternate homescreen launchers from working so not everything works as it should with ADW Launcher EX. Given that, I wouldn't exactly recommend buying it anyway.
For one, it doesn't override the home button, so that still takes you to the regular homescreen. But unlike other launchers, ADW EX provides an app icon that you can access from the carrousel and add to the favorites list to get to it that way.
Another issue I've encountered is it doesn't center properly when switching over to landscape mode; it requires a manual adjustment initially.
On the plus side, transitions are smooth, the apps are all accessible in the app drawer, and there are dozens of customizable settings. Amazon's app's all work fine from ADW, with the exception of the Kindle app: You have to use the regular homescreen to go to your ebook collection and to open a book, but you can add individual ebooks to the favorites menu and quickly access them from there.
ADW Launcher EX is definitely a nice change from the carrousel homescreen Amazon forces us to use because it's open to a lot more customization. There are multiple homescreen windows where you can organize your apps how ever you like, and add folders, and widgets, and change the visual appearance entirely.
Some things make a lot more sense when witnessed than described, so rather than writing down everything, here's a video review of ADW Launcher EX running on my un-rooted Kindle Fire HD.
Video: Kindle Fire HD with ADW Launcher EX