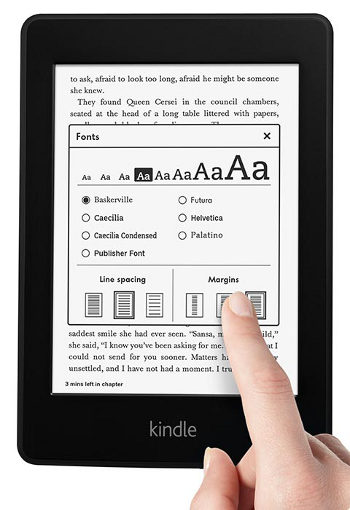 The Kindle Paperwhite is going to start shipping this upcoming week, and a bunch of reviews from major tech websites will likely start flooding the net all at once on Monday.
Until then all we've got to sate our curiosity is a couple of new items that have surfaced this week. First, Amazon has posted the user guide for the Kindle Paperwhite online. Here's the link to the PDF file.
There's not a ton of details, and surprisingly few images, but a couple of interesting tidbits jump out.
#1. The Kindle Paperwhite is the first and only Kindle that monitors your reading progress and gives estimates on the amount of time it will take to complete a chapter or the rest of the book based on your average reading speed.
#2. With several references to something called "Cover View" in the manual, it looks like Amazon has finally added the option to view your ebook collection by book covers on the homescreen instead of just a simple list like all the previous E Ink Kindles.
#3. Comics and Manga books have a new feature called Kindle Panel View that essentially zooms in on individual panels as you go to make reading the text easier (this is new for E Ink but is typical for phones and tablets, including the Kindle Fire).
Amazon also posted a new video of the Kindle Paperwhite today. The video is kind of . . . odd. With a title that reads, "A Look at the Technology Inside", you'd expect a little more technical info and a little less commercialism.
Nevertheless, a few interesting details are revealed by the Amazon employees that developed the Kindle Paperwhite. Take a look…
Kindle Paperwhite — A Look at the Technology Inside