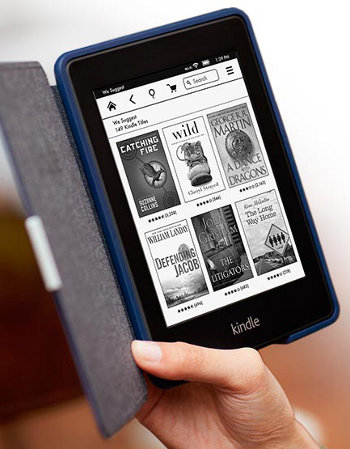 Today Amazon started shipping both models of the Kindle Paperwhite, the Wi-Fi version and the 3G/Wi-Fi version. Mine will be arriving shortly, and I promise I'll post a video and first impressions review on Wednesday.
I was thinking about it the other day and it occurred to me that the 3G model is way overpriced and is pretty much pointless for most people unless you travel a lot or don't have access to the internet at all on a regular basis.
Don't buy into Amazon's hype. It's come to the point where 3G is a superfluous feature on a Kindle for the vast majority of people, and isn't worth the expense.
The 3G Kindle Paperwhite sells for $179 with ads and $199 without ads. The Wi-Fi version costs $119. So that's $60 more, a 50% increase, just for the 3G feature.
Sure, it used to be worth it when you could use the web browser to check emails and surf the web over 3G when you really needed to, but Amazon stopped allowing that last year when they started restricting the use of the web browser to Wi-Fi only, with the exception of Amazon.com and Wikipedia.
So basically Amazon wants you to pay them $60 more for a 3G Kindle Paperwhite solely so you can use it to buy more ebooks and other things from Amazon. Wow, what a deal!
Last year I made the mistake of buying the 3G Kindle Touch before knowing Amazon had stopped allowing the use of the web browser over 3G. It was $149, $50 more than the Wi-Fi model, and I've never once had to use the 3G feature. I just remember to download everything I need to read while I'm at home. If not, it's generally easy to find a public Wi-Fi hotspot at a restaurant or a number of other public places.
Plus there are options for tethering a Kindle to a cell phone or a mobile Wi-Fi hotspot. For example, NetZero offers a 4G Wi-Fi mobile hotspot for $50 and it comes with 200MB per month of free data for a year. Range is limited, depending on where you live, but something like that is going to be a heck of a lot more useful than 3G on a Kindle Paperwhite.
And this year the 3G price difference for the Kindle Paperwhite is even more than last year. Amazon added another $10 onto the equivalent price, $30 overall, of the 3G Kindle Touch despite removing the speakers, the headphone jack, and cutting the storage space in half from 4GB to 2GB.
It's come to the point where the expense of the 3G feature is outweighing its usefulness. But apparently not many people agree. The 3G Kindle Paperwhite is currently #6 on Amazon's best sellers list.