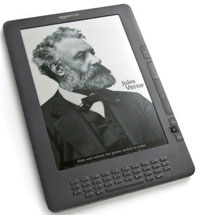 I was doing some browsing at Amazon when I noticed that the Kindle DX has been added to the Kindle family box at the top of Kindle pages, with a new lower price of $299. Previously it sold for $379.
And it looks like the price drop is permanent because on the product page for the Kindle DX it just lists the $299 price without a slash through the old price, and there's no mention of a sale or special offer.
Left abandoned and forgotten by Amazon, the Kindle DX is well over 2 years old now and is thoroughly outdated from a software standpoint compared to the newer Kindles. It doesn't even have the same features as the Kindle Keyboard, and there have been 4 new E Ink Kindles since then. Amazon doesn't even mention the Kindle DX in press releases anymore. Yet they continue to sell it.
Even at $299, I can't imagine a good reason for purchasing the outdated Kindle DX instead of an 8.9″ Kindle Fire HD for the same price. It's kind of crazy when you think about it. Unless you really have the specific need of a 9.7″ E Ink ereader with a bare minimum of features.
Nevertheless, it will be interesting to see what the price cut really means. Maybe Amazon is planning to finally release an updated model to the DX line, perhaps one with a Paperwhite display. Or maybe Amazon is going to sell off the rest at a lower price and then phase out the Kindle DX altogether.
One of those two things needs to happen because they can't keep on selling the DX in its current feature-deprived state forever. A Paperwhite Kindle DX would be a nice addition to the Kindle family.