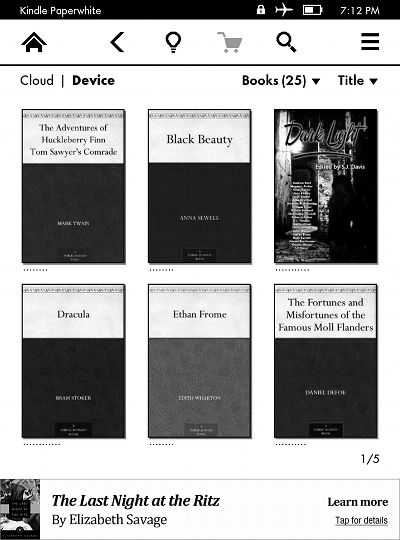 I learned a couple of nifty tips for the Kindle Paperwhite over the weekend, including how to capture screenshots and how to remove the annoying recommended titles that appear on the first page of the homescreen.
Mastering how to snap screenshots takes a little practice, but once you get it down it works well. All you have to do to take a screenshot is tap the upper left corner and lower right corner at the same time. Or you can tap the upper right corner and lower left corner at the same time. Both options will do the trick.
When it works the screen will flash once and refresh.
To access the screenshots you have to plug the Kindle Paperwhite into a computer with a USB cable. The images get saved to the root of the Kindle drive in PNG format.
To remove the recommended ebooks that Amazon places on the bottom of the homescreen, as shown in the screenshot above, all you have to do is turn on parental controls in the settings menu and then turn off access to the Kindle Store.
Doing this removes the recommended titles from the homescreen, but it also makes it so the Kindle Store icon is grayed out and inaccessible. The downside with this is you have to go back into parental controls, enter a password, and re-enable the setting any time you want to visit the Kindle Store.
Amazon has already said that they are going to add the option to turn off recommendations on the Kindle Fire HD in an upcoming firmware update. Perhaps they will do the same for the Kindle Paperwhite too.