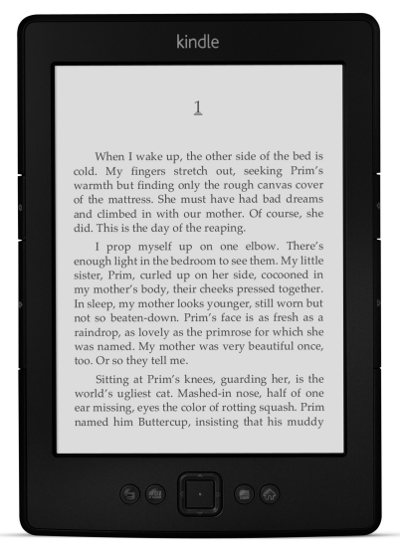 Overview
Amazon's $69 Kindle is the latest basic model and replaces the Kindle 4 from last year. I'm inclined to call it the Kindle 5, but some people refer to the Kindle Touch as the Kindle 5, so to make things less confusing I'm just going to call it the $69 Kindle from here on out, or basic Kindle.
Naming aside, the $69 Kindle is 95% the same as the Kindle 4. The only difference is the outer casing is black instead of gray, and fonts are slightly darker and page turns are slightly faster. Otherwise both offer the same exact set of software features and both are the same exact size and weight.
Because of that, it doesn't make sense to write a full in-depth review again. Instead I'm going to post a quick review with pros, cons, and a final verdict for the $69 Kindle below, along with a detailed video review. And then refer you to the Kindle 4 review for additional information, which includes the full rundown of features and the listing of specs, plus a PDF review. So let's get started…
Quick Review: $69 Kindle
Pros
It's the least expensive E Ink ereader on the market, and is one of the best values for the price.
Despite the low cost it doesn't feel cheap; it's actually one of the more sturdy and solid feeling ereaders.
Darker fonts and faster page turns than last year's Kindle.
Same ole Kindle features: notes, highlights, bookmarks, search, dictionary lookup, screen rotation, experimental web browser, parental controls, social network sharing, there are 8 font sizes and 3 font types, line spacing and margin adjustment, collections, syncing, etc.
Comes with international dictionaries and supports the following languages: English (US and UK), German, French, Spanish, Italian, and Brazilian Portuguese.
Cons
Lacks advanced features: no touchscreen, no audio support or text-to-speech, no X-Ray, no reading progress indicator, no 3G option, no instant translations, and no frontlight like the Paperwhite Kindle.
The on-screen keyboard is slow and tedious to use for adding notes, running searches, etc.
The black color shows dust, crud, and fingerprints more than last year's gray Kindle, especially the soft coating on the back.
The lower page buttons don't feel quite as responsive as on the Kindle 4, they are a little more mushy (perhaps it's just because the buttons are more broken in on my older Kindle).
Verdict
If you don't want to spend very much money on an ebook reader, the $69 Kindle is one of the better options out there. It's a good basic ereader and is suited well for beginners and those that aren't very technically inclined.
If you are willing to spend $30 more, however, there are ereaders out there with touchscreens and other advanced features, such as the Nook Touch and Kobo Touch, or even the Kobo Mini for $79. For about $50 more you can get a Kindle Paperwhite or other ebook reader with a built-in frontlight, which isn't a bad value when you consider the lighted cover for the $69 Kindle costs $60.
So it basically just comes down to what features are the most important to you and how much you are willing to spend. For $69 the basic Kindle is a good value and it serves its purpose well, but there are better options out there if you want to spend a little more.
Price: $69 at Amazon (ads) $89 at Amazon (no ads/international model)
$69 Kindle Video Review
Please refer to the Kindle 4 review for additional information and specs.