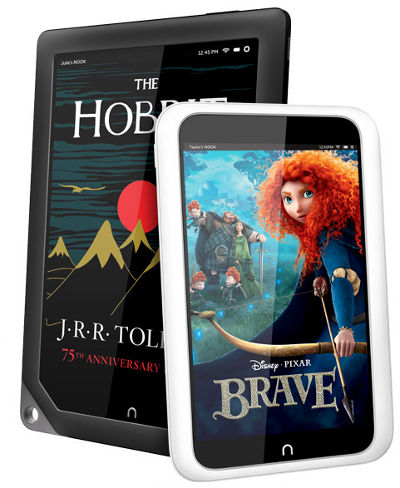 Bad news on the new Nook HD front. Barnes and Noble was supposed to start shipping their new Nook HD tablets yesterday, and B&N even issued a press release on October 30th stating as much, but something has gone sour since then because B&N is now sending out emails saying the Nook HD has been delayed, and that orders are expected to ship by December 1st (guess not, see update below).
I saw an email from B&N in my inbox this morning and thought it was a shipping notice, but instead this is what I got:
America has fallen in love with NOOK® HD.

Demand has exceeded all expectations, and unfortunately, we're unable to ship your NOOK in the time frame we stated in our previous email. We expect to ship your order by 12-01-2012. Once your NOOK arrives, you'll discover a whole new way to enjoy reading with your favorite books, newspapers, and magazines just a touch away.
They are claiming the delay is because demand has exceeded all expectations. Well, that's a bunch of crap because they were all set to start shipping them out just 3 days ago when they issued the press release saying so, which has since been pulled from B&N's newsroom. There is clearly something else going on here that B&N isn't explaining.
Perhaps it has something to do with Hurricane Sandy, but then again if the tablets were going to be released on November 1st as planned, they should have been mostly ready to go before the storm arrived.
Not everyone is getting a delay notice, however. A few people over at the Nook Forums have received shipping notices, and some were able to go and pick up a Nook HD+ in store. A few stores have the 9-inch HD+ model in stock, but I have not seen a single report of anyone getting the 7-inch HD model.
B&N's website is still showing both tablets being released on November 8th. They better get their story straight. And at some point they need to learn the concept of pre-orders. Every year I pre-order a new Nook literally minutes after the product page goes live, and every year stock is available in stores before my pre-order even ships.
Update: B&N has sent out a new email saying that the earlier one was a mistake, and that orders will ship by early next week. Take a look:
Dear NOOK Customer,

You may have received an email notification this morning stating that your NOOK® HD or NOOK® HD+ order had been delayed until December 1st. Please note that this email was sent in error due to technical issues resulting from Hurricane Sandy.

Be assured that the team at NOOK is working around the clock to get you your device. We are pleased to let you know that orders began shipping yesterday and we expect all orders to ship no later than early next week.

We look forward to you enjoying your new NOOK very soon!

Thank you,
The NOOK Team