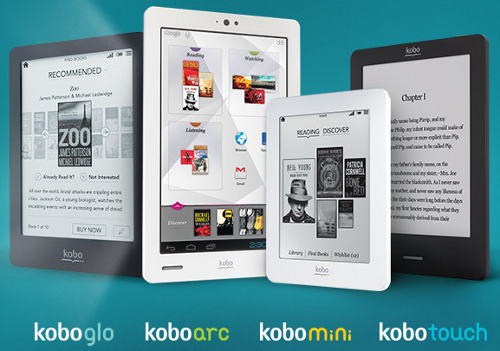 Now that I've gone through the process of setting up a Kobo Mini and a Kobo Glo, it's apparent to me that Kobo needs to completely redo the setup process on their ereaders. Right now it's so painful it's downright frustrating, and can easily take upwards of an hour to complete, depending on how many ebooks you have with Kobo.
Seriously, it's ridiculous. Especially when you compare it with the process of setting up a Kindle, which takes all of about 30 seconds. Kindles come already setup with your Amazon account. Literally all you have to do is turn it on, select a language, and then enter your Wi-Fi password. If it's a 3G model you don't even have to do that.
With Kobo, first they make you waste time with manually entering the date and time (why they can't get that info automatically after setting up Wi-Fi is anyone's guess) and then you have to enter your Wi-Fi password.
Once that's complete, the device has to download a firmware update. Basically at this point you have to set the device down for 15 to 20 minutes and go do something else while it completes the process. If you have slow internet it will probably be a lot longer.
After the firmware update is applied, you have to then re-enter your Wi-Fi password again because it doesn't remember it for some reason, although it does remember the proper time. After that you have the option to login to your Kobo account or start a new account.
The problem here is that if you have an existing account, every single one of your ebooks will automatically be downloaded to your device whether you want all of them or not.
Luckily, I only have a couple dozen titles with Kobo. But could you imagine if you had hundreds of ebooks?
With the Kindle and Nook, your ebooks are archived in the cloud and you can choose exactly which ones to download and when to download them. Even with Kobo's Android and iPad apps you can pause the downloads if you want, which is still painful because you have to pause each title individually, but at least it's an option.
Probably the worst thing about setting up a new Kobo ereader is that you cannot bypass the process of setting it up. For instance, you can't just use it to sideload library ebooks or ebooks from outside of Kobo. You have to have a Kobo account. And you have to have access to Wi-Fi to set it up using the wireless method (obviously). If you don't have Wi-Fi you have to use a computer and Kobo's desktop software to setup. I haven't tried that method; it might take even longer having to track down Kobo's software and install it and proceed with updating the firmware, etc, etc.
I don't understand the purpose of making the initial setup take so long. Ebook readers should be designed to be as simple to setup as possible. It shouldn't take 30 minutes to an hour before you get to the point where you can actually start reading a book. Seriously Kobo, get a clue.