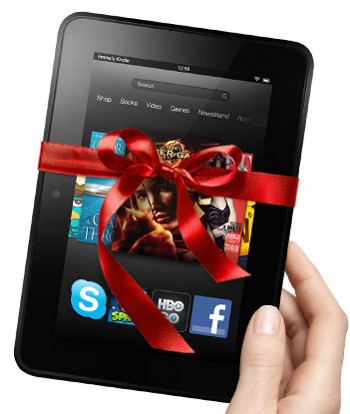 It's the busiest time of year for holiday shopping, and once again ebook readers and tablets are on many people's lists. But which ones are the most coveted?
Both Barnes and Noble and Amazon claim they've sold more than double their ereaders and tablets during Black Friday and Cyber Monday than last year (although nobody seems to notice they both have more than twice as many models to choose from this year).
Whatever the numbers, it's already clear it is going to be another big year for giving tablets and ebook readers as gifts this holiday season.
But with all the choices, deciding on the right one can be a difficult decision. It's not always about getting the best deal on a gadget, it's about getting the best one for the person you are giving it to. Sometimes getting the cheapest one or the one that's "on sale" isn't going to be the best option in the long run.
Sometimes it's better to think about it from a different perspective. One way is to get ideas from other people making the same choice.
I've already laid out my top picks for ebook readers and tablets for 2012 in previous posts this past week. If I had to narrow it down even further I'd choose the Kobo Glo and Kindle Paperwhite for ebook readers, and the Nexus 10 and Kindle Fire HD for tablets (I'd choose the Nook HD+ over the Kindle Fire HD if custom firmware or sideloading apps was available, though).
But what about you? If you had the choice, which ebook reader or tablet would you choose if you could take your pick of any of the devices out there this year?