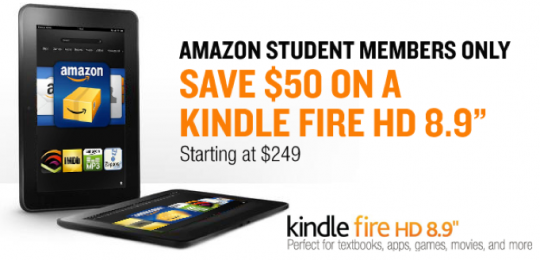 Today, an email was sent out to all Amazon Student members offering them a $50 discount code for the 8.9-inch Kindle Fire HD. Amazon has discounted their premium tablet a couple of different times since the beginning of December, leading some to speculate that the company has a few more units on-hand than they would like. The only time I have seen Amazon discount their Kindle devices or accessories has been when they were trying to clear out excess inventory, like with the Kindle DX.
The previous discounts were rather brief in duration; a (supposedly) limited number of units were available, and the price went back up after two or three days. This time, Amazon Student members will have a full month to decide if they want to make the investment or not. The offer is good through January 30th, or "while supplies last."
$249 for an 8.9-inch tablet is a pretty nice deal, especially for students who might already be invested in the Amazon ecosystem. The updated reading application features a great text-to-speech engine that would be perfect for students who have a hard time staying focused on their freshman English assignments. The new 'Immersion Reading' capability is also a helpful reading option, but you would have to buy both the ebook and the Audible audiobook to do this. ezPDF Reader is available in the Amazon App Store, and the larger screen dimensions of the 8.9-inch Fire HD make it optimal for document viewing. With the addition of a bluetooth keyboard and case, you could take notes in class without having to lug around your heavy laptop.
As a side note, if you are a college student and you haven't been taking advantage of the Amazon Student program, you should use some of the money you saved buying the Fire HD 8.9 and spend it on a membership. For only $39 a year, you get full Amazon Prime benefits (normally $79 annually) including free two-day shipping on all orders and access to a huge library of free ebooks, TV shows, and movies. Amazon physical book prices will almost always be better than what you will find at your local university store—I once found a $75 textbook on Amazon for $20—and the fast, free shipping really sweetens the deal.