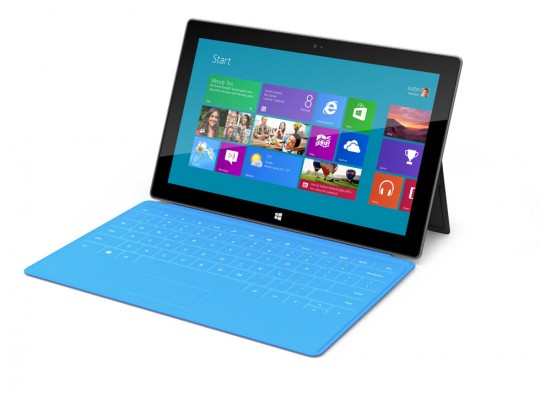 Now that the 2012 holiday shopping season has drawn to a close, tech market analysts have been busy at work, trying to figure out who the winners and losers of the fourth-quarter gadget wars were. A number of interesting studies have been published recently, but in the case of Microsoft's Surface tablet, I don't think I need a bar graph or an industry pundit to tell me how the flagship Windows 8 device has been fairing.
As I walk around the campus of my university, I always try to keep an eye out for the devices people own and what they are using them for. I think that this real world experience helps me to evaluate some of the market projections that I read online. So far, in January 2013, I have seen a lot of Kindle Fire HDs, the usual slew of iPads, some of the older Nook Tablets (maybe they went for the refurbs?), and quite a few different 10-inch Android devices. Unfortunately for Microsoft, since the Surface and Windows RT hit the shelves late last fall, I have seen exactly one person with this tablet in-hand.
On December 20th, Forbes quoted a statement made by FBR Capital analyst David Hilal: "While the anticipation and launch of Microsoft's Windows 8 operating system has been one of the most talked about technology stories of 2012, we believe initial adoption of the OS and sales of Microsoft's first tablet have been disappointing." Perhaps Mr. Hilal is on to something.
An amusing incident occurred at a seminar I was attending two days ago, and since no one else there was really in on the joke, I thought I would share it with you. As I settled into my seat, I noticed that the person leading the discussion was using a new Microsoft Surface tablet to assist in her presentation. The device was propped up on its built-in stand (an interesting feature), and it looked like she was just using it to read from a document. The seminar was moving along smoothly when, all of the sudden, the speaker came to a halt, and a confused look spread across her face. She informed us that her document wasn't scrolling properly, and that the last few paragraphs of the text were unreadable.
A few odd moments of silence went by before another student attempted to come to her aid. After about a minute of fruitless tapping, poking, and prodding, the speaker finally turned to the large auditorium full of people and asked:
"Does anyone here have a Surface?"
The audience in the 200-seat hall exchanged glances, searching for someone who might be able to help, when a hand shot up in the air:
"I have a hardback book you could write on."
A few students who were seated in closer proximity to the podium offered the use of their textbooks as well.
"No, I'm referring to the tablet; the Microsoft Surface tablet…" she replied.
As I looked around the room, I could see that most of those in attendance genuinely had no idea that there is a tablet named the Surface. They thought that the speaker was requesting a hard 'surface' that she could write on. Needless to say, no one whipped out their Surface to share.
Some of the people at that seminar might have known that you can buy Windows 8 tablets now, but from the confused and befuddled looks I saw on the faces of the students around me, I'd say that Microsoft has a long way to go when it comes to the tablet market.
She finished off the presentation on her smartphone.