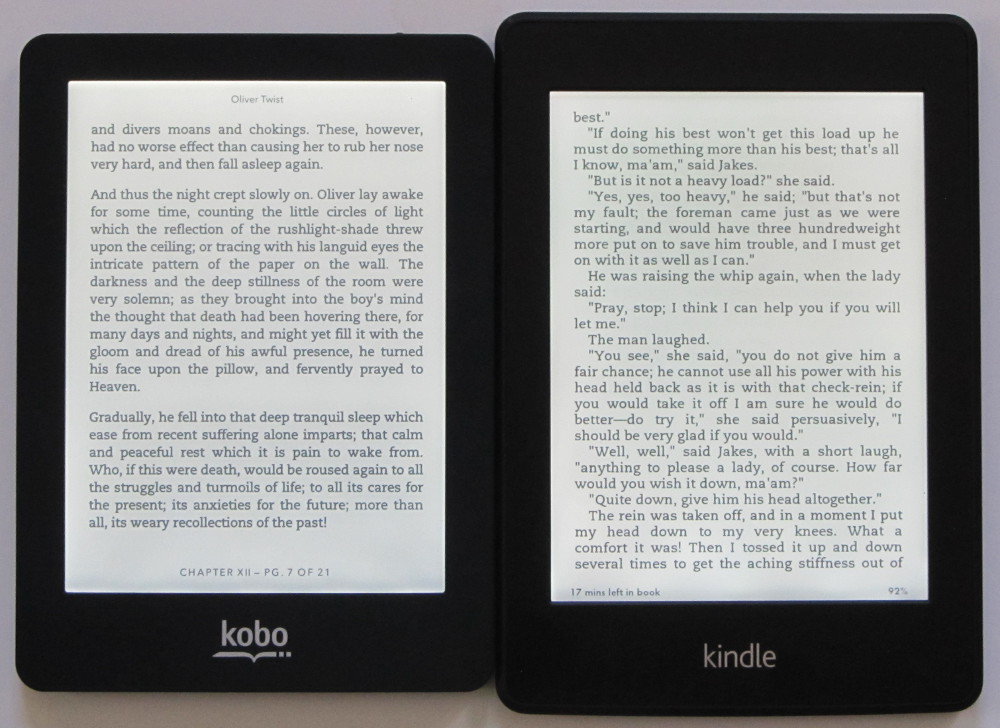 I've noticed something interesting about my ebook reading habits. Ever since the Nook Touch with GlowLight was released, and now that the Kobo Glo and Kindle Paperwhite have come along, I almost always prefer to have the frontlight turned on when reading. The light always seems to make the screen look a little better, even in a well-lit room with plenty of ambient lighting.
I think that's one of the reasons Amazon decided to make it so the light is always on when the Kindle Paperwhite is turned on—even at the lowest brightness setting the lights still glow slightly.
With the Nook and Kobo you can turn the frontlight completely off. But the first thing I always find myself doing after turning either of them on is to immediately turn on the frontlight. It seems unnatural not to.
Once you get used to the frontlight, the text background color with the light turned off looks too dark and gray. The light makes the background appear lighter, and the text easier to read.
The one exception is in direct sunlight the effects of frontlights are pretty much imperceptible. But now that we're in the midst of cold crummy winter, it's not like there are many opportunities to read in the sunshine.
None of the frontlights are perfect on today's ebook readers. In fact I found things to complain about in each of the reviews for the Kobo Glo, Kindle Paperwhite, and Nook Glow, from shadows to uneven lighting and degraded contrast. But when it comes right down to it, despite the shortcomings, I find that I'd rather have the frontlight turned on 90% of the time, even if just barely.
So what about you? How useful do you find the frontlight on your ebook reader? Do you have it turned on all the time or just when it's dark? And for those with a Kindle Paperwhite, do you like having the light turned all the way down so that's it's almost off? Or do you find that you like to have the light's brightness turned up most of the time?