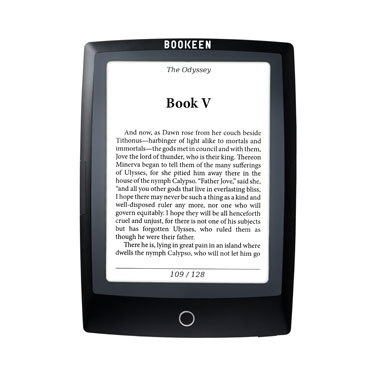 One European eReader I have always had an overseas crush on is the Cybook Odyssey HD. Now that French eReader developer Bookeen has released a 2nd-gen edition of this device—with a frontlit display—I want one even more. The Cybook Odyssey HD Frontlight features a 6-inch capacitive touch HD E Ink display (1024 x 758), and its proprietary High Speed Ink System (HSIS) technology makes it one of the most unique eReaders I have ever seen.
HSIS enables this device to have vertically scrolling menus (without flashing), ultra fast refresh rates, and even E Ink screen animations. For example, every time you open an eBook, an image of its cover smoothly expands across the display, just as it would if it were on a tablet.
The Odyssey HD Frontlight is powered by a Cortex A8 Texas Instruments Omap 800 MHZ processor with 128 MB of RAM. Bookeen's product listing states that this processor "stands up to the most powerful tablets"; I'm not sure about that, but from the video reviews I have seen, operations run very smoothly on this device, and the browser is more practical to use than on other eReaders.
As for the display, the Odyssey HD's front-lighting looks a lot more uniform than my Kindle Paperwhite's, but this could vary from screen to screen. Another thing I really love about this device is that it actually has physical page turn and menu buttons, plus a microSD card slot.
As far as I know, Bookeen's eReaders have never been available in the United States, and the Odyssey HD has been waiting on FCC approval for awhile now. Supposedly, this is about to change. According to a future distributor, the Cybook Odyssey HD Frontlight has obtained FCC clearance and will be available in North America soon.
If this happens, there will be one more option for front-lit eReaders here in the States, but I'm not sure how much of an impact it will make. Amazon, B&N, and Kobo have pretty much dominated the market here (goodbye Sony). Up to this point, the only people who have heard about the Odyssey are eReader enthusiasts who read blogs like this one. Unless Bookeen plans to embark on a massive North American ad campaign, we probably won't be seeing their eReaders around town anytime soon. I'm also worried about the price; the phrase 'imported eReader from France' probably doesn't translate to a $119 price tag.
Would the HSIS technology be enough to entice you away from your Paperwite, Glo, or Nook?