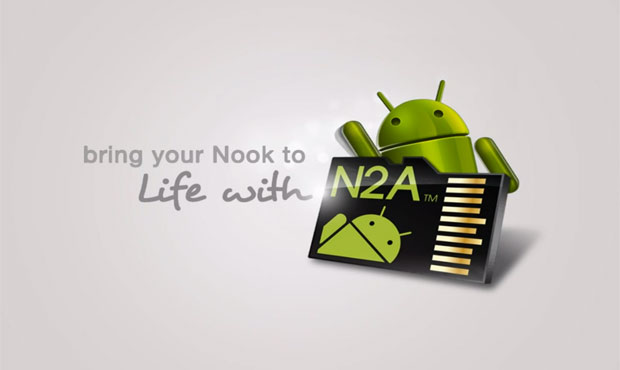 Review Date: February 2013 – Review unit purchased from N2A Cards. Review written by James Cloud (aka Cloudmann).
Overview
So, I'm always on this quest for the perfect e-reader. My criteria remain pretty consistent but vary from place to place, depending on what's available. One thing I won't compromise on is screen resolution. For reading (especially magazines or anything else in color), it's really the deal breaker. Another criterion that I'm fairly well hung up on is the size. 7 inches is about it for me, since I've got what others may call "little girl hands". I got the Nook HD a couple of months back due to its advanced screen resolution (1440×900) that's higher than any other 7 inch tablet at the time of this writing. The processor is plenty fast, the screen looks great, it has expandable storage, and I can palm it with one hand. That all said, the Nook, being locked into its own ecosystem has its own issues (like zero support for Zinio).
So N2A just released (January 30th) their cards for the HD. I downloaded and wrote the card immediately, with high hopes to rectify lots of Nook issues by way of installing Jelly Bean. How does it hold up? Read on… I'll review both the hardware and software to get a good feel for this thing. No pics of the device, since the web is littered with them and we've all gotten our paws on these at some point. Just a goodly bit of screenshots. The quality of the shots will be dithered a bit due to the compression used in saving to JPG, but you get the idea.
Quick Review: Nook HD N2A
Pros
Great, FANTASTIC 7 inch screen. 242 DPI… WHAT?!?!?!?
Nice form factor, good weight. Solid.
Fairly good battery life… about 7-8 hours (8-9 in Nook mode)
Clean Jelly Bean install by Cyanogenmod.
MicroSD card slot for expandability and sideloading
Enjoyable web browsing experience
Buttery UI
FAST, fast, fast. Great work
Cons
VERY occasional reboot into Nook mode. Not sure why.
Would have liked a 3:2 aspect ratio like the HD+. 1440×960 would be sweet.
No cameras. Period. Sucks.
Really? A proprietary 30 pin connector and no onboard HDMI? Come on!
Some minor incompatibility with certain apps
Better audio than built in Nook mode, but still pretty "meh".
A couple of work arounds needed for some app compatibility.
Verdict
So, I liked my Nook HD before. It's a good e-reader. I LOVE it now. Is this a Nexus 7 killer? Nope… it doesn't have cameras and the processor is a bit slower than the quad-core beast in the Nexus. That said, though, the screen is DAMN sexy and really looks nice. Per Steve Jobs, any resolution at or over 240 DPI is retina. That makes this a 7 inch retina Android tablet, per the people that created the terminology… and a really nice one, at that. Do you Skype? Look elsewhere, then. Otherwise, this might do it for you, if you're in the market for a good, high-res 7 inch screen. If you're a bit tech-savvy, save some scratch and download the appropriate sized image and write it to your own micro SD card. Use a class 4 SanDisk at 32 GB or less… nothing else really works consistently. Use Nathan's coupon code (theebookreader) at checkout and get 15% off of the $20… this brings it to $17 plus the cost of your own card. Not bad. Or do the lazy thing (and still use the code) and just have it mailed and pay a bit more.
Estimated Price: $20 to $60, depending on options at N2A Cards
Hardware and Design
You know, I've always liked the Nook series of tablets. Their aesthetics are nice and simple and get the job done without a whole lot of fanfare. The home/"n" button is a nice, somewhat useful thing here, and actually works well with the customized Jelly Bean interface. Got your volume rockers, power, SD slot, headset jack, stereo speakers, and… that ungodly 30 pin connector. Yep… B&N decided to go proprietary with the HD line of products. Moreover, the HDMI functions are only supported with the optional dock to HDMI adapter. No cameras either. Poop. Otherwise, the tablet rocks.
The Screen
Sexy… that's the best way to describe the screen. Just plain sexy. Really, until the 1080p Nexus 7 or the other 1080p 7 inch tablets (or the retina iPad Mini) come about later this year, this is the new 7 inch screen hotness. It absolutely SHAMES the iPad Mini. Viewing angles are as close to 180 degrees as I've ever seen. Contrast is great, brightness is great, and color replication is really nice. Netflix ROCKS on this (make sure to enable HD streaming), so does CinemaNow. This screen is MADE for movies. Like the Kindle HD and whatnot, the screen is laminated, eliminating a whole TON of glare. Still, I got an official B&N antiglare filter on the cheap and took my time installing it right (get yourself a reusable $2 kit to do this… it REALLY makes the process 1000% more graceful), and the screen just ROCKS, now… and my fingers don't stick as much. Awesome.
The Software
This is absolutely solid. And that's to be expected. Cyanogenmod has released pretty consistently solid Android releases with absolutely minimal bloatware. Jelly Bean? Yep. Rooted? Yep. Smooth, fast, and buttery? Yep, yep, yep. Resize widgets? Oh yeah! Jelly Bean is really nice. REALLY nice. All of that being said, though, this being an unofficial release, there are a couple of app incompatibility issues. For the life of me Pac 'N Jump would not work. Period. Also, Zinio doesn't work… without a workaround. I basically had to edit the build.prop file and identify this as an Asus Nexus 7 and reboot. Then, Zinio works. Weird. Also, I had a couple of random reboots while performing an install (or running an app that N2A doesn't like to play with). Strangely enough, it reboots into Nook mode, even though N2A doesn't support this at bootup. Not a big deal, but something worth mentioning. App compatibility is REALLY high, and the system screams. Nice job.
As an eReader
Did I mention the screen and the 242 DPI? It really beats out the iPad Mini and its 162 DPI. Beats it into submission with a big ole stick. Regardless of reading app (and they ALL work beautifully), everything works well and is razor sharp, to boot. Nice.
Magazines and Comics
Once you perform the build.prop manipulation, Zinio works fine. Expect a bit of pinch and zoom, as the aspect ratio isn't perfect for magazines. All said, though, this screen puts out a RAZOR sharp image. My funky UK magazines display at about 1200×900 at somewhere around 6.2 inches on the screen and look SWEET. Very well done. Like I said, the 3:2 aspect ratio would have been nice, and the magazine would have rendered somewhere around 1280×960 and 6.5 inches, but it's plenty beautiful as it is. VERY nice… though I still prefer the 4:3 ratio for reading. Comics look great, too. I still love Zinio…
Android Apps
Read above. There are a few strange incompatibilities, but not with any major apps. Nothing too overwhelming, but definitely worth mentioning. One of my clock widgets (that I don't use much) wouldn't even install without rebooting the system. No biggie… the Accuweather widget works fine and the Cronus/cLOCK clock locking widget Cyanogenmod comes with is SWEET. No real issues other than that, though. Generally, if an app won't work, it just won't work; no lock up or freak out. Not quite perfect, but close enough for government work.
Games
I was pretty surprised here. This tablet really screams. The PowerVR SGX544 really flexes, here. Even being just a dual core CPU and quad core GPU, this setup gives the more powerful 4/12 core CPU/GPU Tegra 3 setup a real run for its money. 3D is fast and smooth, even with the Epic Citadel Unreal Engine demo, all the major games I have ran smooth (except for Pac 'N Jump… see above), and things just worked really, REALLY well. Accelerometer support was spot on, the screen really looks nice, and everything just flows smoothly. This is actually a DAMN solid gaming tablet. I'm pretty impressed with the OMAP 4470 processor and that PowerVR GPU.
Battery
From a stock setup (no N2A), the Nook HD actually gets a pretty respectable 9 hour or so battery life. With N2A, this drops to around 7 to 8. Not bad. Not great, but better than average, certainly. I was able to do tons of Netflix HD , Hulu, and YouTube HD streaming, trying to torture this thing… even then, this lasted over 7.5 hours. I set up the Epic Citadel demo in a loop and put it on the highest quality settings. I got somewhere just over 7 hours. Not bad. Not bad at all.
Wireless
Good reception. Everything works fine, but nothing worth mentioning, one way or the other. I kept a strong, solid signal all the time.
Audio and Bluetooth
Headphones sound good on this unit and the stereo speakers are respectably loud and have decent sound quality (better with N2A than the stock Nook OS), but these aren't the Beats Audio speakers on the HP Touchpad. About Bluetooth… it was a bit hit and miss. I have a Bluetooth headset that works fine, and a Bluetooth keyboard that works, but my portable Bluetooth speaker… no dice. Not sure what the issue is. Maybe the next (first) update will address this.
Cameras
Nope. Bummer.
Videos and HDMI
HDMI? Sure! But ONLY with an additional $40 purchase. Looks good, but is really a superfluous, useless thing. This should have been built in directly. This is a B&N thing, not a N2A thing.
Setup
So, there are a couple of ways to go with this. You can spend a bit more cash and have a pre-made micro SD of your capacity choice sent to you. If you're not particularly tech savvy, this is probably the better option. Otherwise, $20 and a 200MB download later, and you'll be ready to set up your own N2A card. Set aside 2 hours or so. Yes, 2 hours. It took over an hour and a half to write the N2A image to my SD card. My computer was just sitting there writing to the card REALLY slow during this process. N2A even acknowledges this during the setup process, saying it takes up to 120 minutes. Not sure what takes so long, but it's not a big deal, as it's a one time setup.
After that, the first boot takes about 2 minutes, then the setup process is identical to that of any other Android tablet. Boot time after that is about thirty seconds to a minute.
It's a bit of work up front (or waiting for the card to be mailed to you, whichever you choose), but it's painless after that.
Want to go into Nook mode? Power down, remove the card, and power up. That simple. As of yet, there's no built in boot manager to select Nook or N2A at startup. I'm sure that'll come soon enough, being as some incompatible apps are doing this on their own.
All in all, nice and easy, clean, and efficient. Just the way I like software.
Who should buy this?
Keep in mind, I don't care about cameras. Skype? Nope… don't use it. I want a small, high res screen. Until the Retina iPad Mini or a 7 inch 1080p come about, this is it. If you can live without the cameras and iOS, this is a solid, solid alternative to the iPad Mini. The Jelly Bean OS is clean and efficient and just gets things done right. It's nice having the option to revert to the original Nook OS as well, since it really is a bit more tweaked to the Nook ecosystem and has a few extra features for actual book reading. And, it does NOT void your B&N Nook warranty. Take it or leave it, this is a solid, solid little Android solution. While I do wish the HD had a camera of some sort (just to be a more complete product), I think most people interested in this as a full e-reader will be able to overlook it. Get the 8GB model (as onboard storage isn't accessible by the N2A card, anyhow), download your own image, and write it to a 32GB card. Total, you're looking at around $250. Not bad for a solid, 32GB Android tablet with a killer screen and GREAT performance.
Nook HD and Nook HD N2A Specs
7-inch laminated IPS LCD 16:10 aspect ratio screen
1440 x 900 pixel resolution (242 ppi, retina display)
1 GB RAM
8 or 16GB internal storage (Nook mode)
Varying internal storage, depending on micro SD capacity (N2A mode)
MicroSD card slot for cards up to 64GB (only in Nook mode)
1.3 GHz dual core OMAP 4470/Quad core PowerVR SGX544 GPU
Custom Android 4.0.4 (Nook mode) or Android 4.1.2 (N2A mode)
Dual Speaker, headphone jack, proprietary 30 pin dock connector
Battery life: 8-9 hours (Nook mode), 7-8 hours (N2A mode)
Dimensions: 7.65" x 5.0" x 0.43" (194.4×127.1×11.0 mm)
Weight: 11.1 ounces (315 grams)
Price: $199-$229 USD (Nook HD) plus $20-$60 USD (N2A card)
Don't forget the coupon code: theebookreader for 15% off