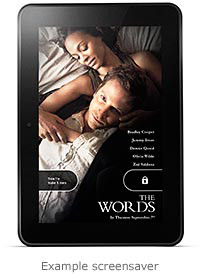 Amazon is the only company that offers ad-supported ebook readers and tablets for a discounted price. A person can save $15 on any Kindle Fire tablet or $20 on any Kindle ebook reader when buying one of these models.
With tablets the ads appear on the lockscreen when waking the device up from sleep mode, and on Kindle ebook readers the ads appear at the bottom of the homescreen and as a screensaver ad when the device is asleep.
But do theses ads really work from an advertising standpoint? Do people pay any attention to them? Do they actually convert well?
Kobo tried the idea briefly with the Kobo Touch last year, but the experiment doesn't seem to have gone well for Kobo because they didn't follow it up with any ad-supported models this year for the Kobo Mini or Kobo Glo.
When Amazon first started offering ad-supported Kindles, I thought it was a good way to bring prices down and thought we would be seeing more subsidized ebook readers and tablets moving forward, but that has not been the case at all.
Amazon is still the only one doing it and you've got to wonder if it's really paying off or not. It gives all their competitors a reason to poke barbs at the Kindle brand saying they are loaded with annoying ads.
For me personally, the advertisements have a 0% conversion rate. I not only ignore them, but 90% of the time I don't even get the gist of what they are advertising because I swipe to unlock the screen before I even pay any attention to what the ad is. That's with the Kindle Fire HD, of course. With Kindle ebook readers I simply hold the power button for a few extra seconds to avoid having to see the screensaver ads at all, and I spend very little time on the homescreen so that ad gets very little face time.
The funny thing about the Kindle Fire HD is that it was supposed to have an ad at the bottom of the homescreen too, but Amazon must have re-thought that one because it was only ever there the very first day I owned the device. But the description at Amazon still says "Your offers display on the lock screen and in small text on the lower left hand corner of the home screen". At any rate, that one was really annoying and easy to accidentally hit so I'm glad they decided to get rid of it.
So what about you? Do the ads on your Kindle ever catch your eye and make you buy something you otherwise wouldn't have?