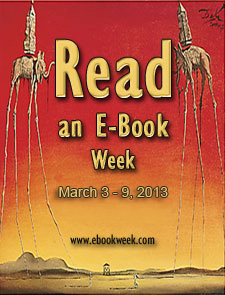 Tomorrow the annual Read an E-Book Week kicks off where publishers and authors offer thousands of free and discounted ebooks to help promote digital reading around the globe.
Read an E-Book Week is supported by a number of publishers and authors that want to expand the reach and visibility of ebooks, making this time of year a good time to fill up your ereader with some food in the form of free and heavily discounted ebooks.
To learn more about Read an E-Book Week, and to keep up with the ebook stores, authors, and publishers offering discounts and freebies in this year's event, check out the Deals and Steals section over on the Read an E-Book Week website.
In addition to loading up on ebooks and discovering new authors, you can also enter to win a Kindle Paperwhite and Nook Touch. Information on how to enter can be found on the contest page.
Read an E-Book Week first started back in 2004 to help bring attention to ebooks and to educate and inform the public about the advantages of digital books. This is great opportunity for authors to get more exposure, and for readers to find new authors and ebooks they might now normally get a chance to read.
Stay tuned to the Read an E-Book website for the latest news, deals, and promotions during the week of March 3rd through March 9th.