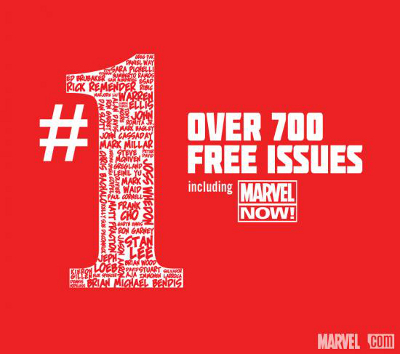 Yesterday Marvel Comics announced that they are running a temporary promotion where they are giving away 700 first-issue digital comics for free to anyone who can get through the download process using the Marvel Comics apps or Marvel Comics Digital Comics Shop. Unfortunately they are having trouble sustaining the massive download attempts, and neither are working as I write this.
The promotion runs until 11PM eastern time on Tuesday, March 12, so hopefully Marvel will get things running smoothly again soon so that all of you digital comic fans and potential enthusiasts will have a chance to download some free first issues.
It's hard to imaging Marvel not seeing this coming. With everyone wanting to get as many of those 700 issues before time runs out, it would take some serious heavy machinery to handle that kind of action. That's just asking for a server crash.
These digital comics usually sell for $1.99 to $3.99 each, and include Marvel classic characters like the Avengers, X-Men, the Fantastic Four, Captain America, and Spider-Man, and the newer bread of comics like Guardians of the Galaxy, Thanos, Civil War, and Iron Fist.
The promotion is intended to draw in new readers; Marvel feels confident you will want to read more of a series if they give you the first issue for free.
via: The Verge