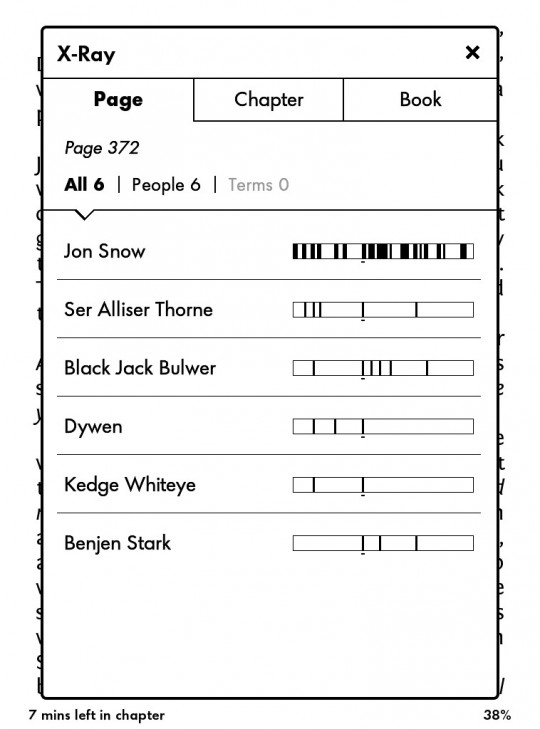 Lately I've been making a lot of use of the X-Ray feature on the Kindle Paperwhite so I thought I would go ahead and put together a review detailing how the X-Ray feature works and what it is exactly.
Amazon first introduced the X-Ray feature with the launch of the Kindle Touch back in November 2011. They carried it over to the Kindle Paperwhite as well as the newer Kindle Fire tablets. X-Ray is also available on the Kindle for iPad app. Unfortunately the non-touchscreen Kindles are left out and so is the Kindle Android app.
Amazon also offers X-Ray features for textbooks and movies, but this review I'll be focusing on just the ebook version of X-ray.
Basically X-Ray allows the reader to get additional information about the characters, places, and terms used in a book. It pulls the information from Shelfari.com and Wikipedia and organizes it into a nice easy-to-use package.
What's cool about X-Ray is that it doesn't require an internet connection to use. All the additional information is stored locally because it is apart of the actual ebook you downloaded from Amazon.
X-Ray isn't available on all Kindle ebooks—books that have it are listed as X-Ray enabled under the product description at Amazon—and it doesn't work with sideloaded ebooks.
To be honest I haven't found much use for X-Ray in the past, but now that I'm reading the latest book in George Martin's A Song of Ice and Fire series, I found X-Ray to be an extremely useful feature that is practically indispensable for this series. I actually bought the book, A Dance with Dragons, a long time ago when it first came out, but after I started reading it I couldn't remember many of the lesser characters and their stories because it's been several years since the previous books came out.
After reading a couple chapters I decided to go back and re-read the earlier books, but that idea petered out after a while because there are four of them and they are huge tomes close to 1000 pages each.
Eventually I went back to reading A Dance with Dragons just to get it over with (it cost way more than I'd typically pay for an ebook so I have to finish it). But this time around I started using the Kindle's X-Ray feature and I'm finding that it fills in the blanks nicely when I can't remember a particular character and their backstory.
X-Ray lists all the characters in the book and gives a brief description of them, along with popular places and common terms mentioned. In a fantasy novel like this, places and terms don't come up very often, but the character lists are very useful. This particular ebook has 440 character names mentioned in it, and X-Ray has a description for all of them.
X-Ray also lists all the times and places the particular name/word appears in the book, making it so that you can easily jump back and forth between different locations. It also breaks down the viewing options for the lists by the page you are viewing, the current chapter, and the entire book.
Below is a video review I put together showing X-Ray in action on the Kindle Paperwhite. It works the exact same on the latest line of Kindle Fire tablets and on the iPad app, the presentation is just a little different.
Kindle X-Ray Feature Video Review