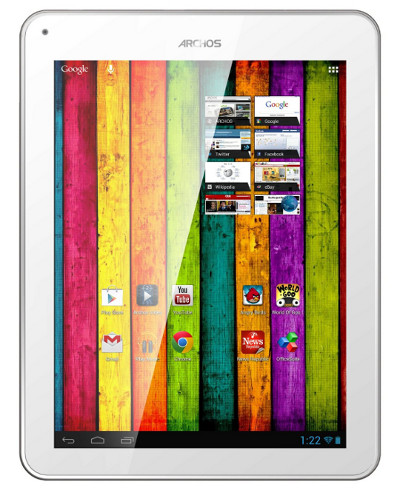 Archos is one of the more prolific budget tablet makers, and they recently unveiled their new line of "Titanium" tablets, and now a couple of models have started showing up for sale, both of which just happen to have the same screen size and resolution as the iPad 4 and iPad Mini, and they sell for about half the price.
First up is the Archos 97 Titanium HD. It is the most interesting of Archos' new tablets because it sports a 9.7″ IPS screen with a super-high resolution of 2048 x 1536, as well as 10-point capacitive touch. It runs Android 4.1 Jelly Bean and fully supports the Google Play store and apps.
The Archos 97 Titanium HD also features front and rear cameras (2MP and 5MP respectively), a microSD card slot, two speakers, a microphone, USB host support, Wi-Fi, 8GB internal storage, 1GB RAM, and it's powered by a 1.6GHz dual-core processor with a quad-core GPU.
All things considered it's a pretty nice-looking tablet for $249. I'm thinking about purchasing one to review. My biggest question is battery life. Powering that many pixels requires a lot of juice, and Archos doesn't list estimated battery life anywhere. In fact they don't even specify the size of the battery. Hopefully it gets at least 6-7 hours.
Next up is the Archos 80 Titanium. It's sized like the iPad Mini with a 8-inch 1024 x 768 screen. Otherwise it basically has the same specs as its larger brother listed above, but with lesser cameras, and the addition of a micro HDMI port. It sells for $169.
The interesting thing about Archos 80 Titanium, though, is there's conflicting info about it supporting the Google Play store. At J&R, the description says it is non-certified and that it comes with access to the Appslib store. But then the picture for the device clearly shows the Google Play store, and the listing at Amazon and Archos both say it supports the Google Play store, so that makes a lot of sense.
The other two new Archos Titanium tablets aren't showing up anywhere just yet. There's a 7″ model for $119 called the Archos 70 Titanium, and a 10″ model dubbed the Archos 101 Titanium for $199.
via: Liliputing