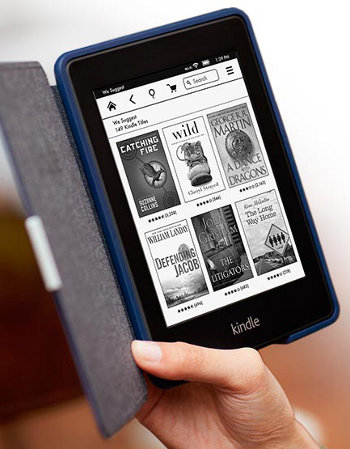 While doing some research over at Amazon this morning I came across a couple of listings for refurbished Kindle Paperwhites.
Usually Amazon has a note along the side of the regular listing when they have refurbished units available, but this time they are completely hidden for some reason. In fact they don't even show up when running a specific search for "Kindle Paperwhite" at Amazon, and even when searching just the Kindle Store. Odd… I guess they'd rather sell the new ones instead.
There are two listings available for the refurbished units. There's the regular Kindle Paperwhite for $104 and the 3G Kindle Paperwhite for $159.
Both are the ad-supported models (the ads can be unsubscribed, of course). The Wi-Fi model is $15 less than a brand new Kindle Paperwhite and the 3G model is $20 less. That's not much of a discount, but it's enough to buy a few ebooks.
The certified refurbished Kindles come with the same 1 year warranty as the new models and are subject to the same return policy, so you aren't losing anything with the lower price. In fact they've been tested and inspected and even come in a new box; the only way you can really tell is the refurbished sticker they put on the box.
Generally I feel better about spending a few bucks more to get something that is brand new, but if you are looking to save a few bucks the refurbished Kindle Paperwhites might be worth a look. I thought I'd mention it since they are buried deep in the search results at Amazon and are almost impossible to come across naturally.