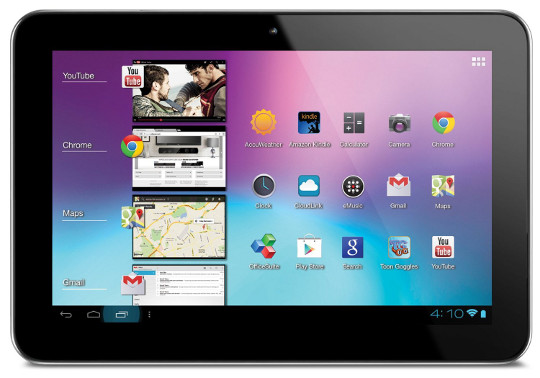 Coby, one of the more prolific budget tablet makers, has released a new line of inexpensive tablets with decent specs and low prices for 2013. There's a 7-inch model (MID7065), a 10-inch model (MID1065), and an 8-inch model (MID8065) available right now from various online retailers.
About this time last year I reviewed the Coby Kyros MID7042. It was an okay tablet but it didn't have access to the Google Play store and it had a low resolution screen.
This year Coby has upped the resolution, the processors, and added full support for Google Apps and Google Play, while somehow managing to drop the prices even lower than last year.
The screen resolution still isn't as good as more expensive tablets—it's mid-range now instead of low, but the combination of price and features puts up a good fight against pricier options.
Right now there are three new Coby tablets available over on Amazon. This post was just going to cover the 7-inch model, but then they just added two newer models with 10.1″ and 8″ screens so I might as well include them as well.
All three tablets run Android 4.0 Ice Cream Sandwich and come pre-loaded with Google apps and the Play store, as well as the Kindle reading app. They are all powered by 1.2GHz dual-core processors and have 1GB of RAM. About the only thing that separates them is the screen size, and the 7-inch model lacks a rear camera.
Please note that the prices listed below are what they are selling for as of this writing. The prices will change over time.
7-inch Coby Tablet MID7065-8
7-Inch multi-touch screen (1024×600)
1.2 GHz dual-core processor
8 GB internal memory
1GB RAM
Mini HDMI port
MicroSD card slot
Wi-Fi (802.11b/g/n)
Bluetooth 2.1+EDR
Front facing camera VGA (640×480)
4,000 mAh battery
Size: 7.8 x 4.8 x 0.45 inches
Weight: 11.8 ounces
Price: $109 at Amazon
8-inch Coby Tablet MID8065-8
8-Inch multi-touch screen (1024×768)
1.2 GHz dual-core processor
8 GB internal memory
1GB RAM
Mini HDMI port
MicroSD card slot
Wi-Fi (802.11b/g/n)
Bluetooth 2.1+EDR
Front facing camera VGA (640×480), rear facing camera 2.0MP
4,400 mAh battery
Size: 8.3 x 6.3 x 0.45 inches
Weight: 17.1 ounces
Price: $162.16 at Amazon
10.1-inch Coby Tablet MID1065-8
10.1-Inch multi-touch screen (1280×800)
1.2 GHz dual-core processor
8 GB internal memory
1GB RAM
Mini HDMI port
MicroSD card slot
Wi-Fi (802.11b/g/n)
Bluetooth 2.1+EDR
Front facing camera VGA (640×480), rear facing camera 2.0MP
6,000 mAh battery
Size: 10.2 x 7.1 x 0.4 inches
Weight: 20.8 ounces
Price: $208 at Amazon