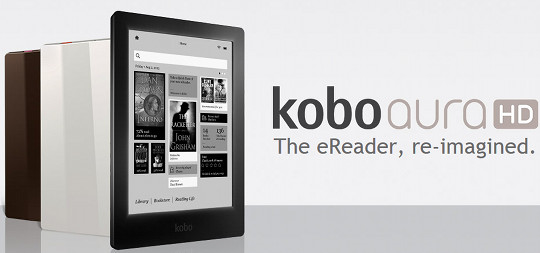 Kobo just pulled a surprise move on everybody today by unveiling a new limited edition E Ink ebook reader called the Kobo Aura HD.
The most interesting detail about Kobo's new ereader is the screen, which Kobo is calling ClarityScreen+. First off, the screen is supposed to be more durable than typical E Ink screens. Second, the Kobo Aura HD has a 6.8-inch E Ink Pearl screen with a resolution of 1440 x 1080 for an impressive 265 dpi.
By comparison, most ebook readers tend to have 6″ screens with 800 x 600 or 1024 x 758 resolutions. This past year Kobo and Amazon both started using the "HD" 1024 x 758 screens on the Kobo Glo and Kindle Paperwhite. Those have 212 dpi, so the Kobo Aura HD has an even higher resolution screen than that.
Like the Kobo Glo, the Kobo Aura HD also has a built-in frontlight called ComfortLight to illuminate the screen. The light can be turned on and off (unlike the Kindle Paperwhite), and has a minimal effect on overall battery life.
Other features of the Kobo Aura HD include a 1GHZ processor, 4GB of internal storage, a microSD card slot for cards up to 32GB, Wi-Fi for shopping the Kobo store and using the web browser. Battery life is rated up to 2 months, based on 30 minutes of reading each day.
The Kobo Aura HD is available for pre-order in North America for $169 from Kobo.com and select retailers, and will be in-stores in Canada and the United Kingdom starting April 25. International availability will begin in May. The device is available in three colors: Espresso, Ivory, and Onyx.
As you might expect, I will be posting a review of the Kobo Aura HD in couple of weeks after I receive my order.
Introducing Kobo Aura HD