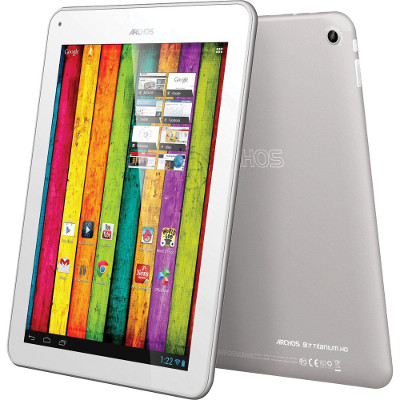 Last month I posted a review of the Archos Titanium HD, a cheap Android tablet with a high resolution IPS screen like the Apple iPad.
In the review I was on the fence with regard to recommending the Archos Titanium HD. On one hand I really like the IPS HD screen. It's super clear and bright and is great for ereading because of the high pixel density (264 dpi). On the other hand the device has below average Wi-Fi range and it can be slow to respond at times.
Now just 34 days after receiving the Archos Titanium HD, the fence has been torn down and obliterated because the device has come to the point where it will no longer boot up at all. Turning it on results in a endless boot screen that shows the Archos logo and the words "Entertainment your way".
Well, that's certainly not my idea of entertainment. Trying all manner of button combinations, hitting the reset button, holding the power down button—nothing fixes it.
From my past experiences, it is very difficult to break an Android tablet to the point where there's nothing you can do to get it to boot up (in fact of all the tablets I've ever reviewed this is the first time this has happened). Usually there's a recovery mode option or auto restore with a set number of failed boot attempts, but none of that works on the Archos tablet.
I was able to get the recovery icon to pop up by plugging the tablet into the wall charger and holding the volume down button, but there's just a red triangle that never does anything except eventually reboot back to the stuck Archos logo.
Unfortunately for me, the return window at J&R.com where I bought it is 30 days. Since it is just beyond that window I'm going to have to file a warranty claim with Archos instead. Fun.
Needless to say, I can no longer recommend buying this tablet based on my experience with it. Sometimes you're better off just spending more money and getting something with a proven track record rather than trying to save a few bucks on something that isn't going to last very long.
Update: One of my regular readers (and proofreader) suggested that I contact J&R to see if they could make an exception since the product failed just beyond the return window. Much to my surprise, the nice folks at J&R.com stepped up to the plate and sent a return authorization form and pre-paid UPS label to send the defective unit back for a replacement. They didn't have to do that, but they did anyway. That's what I call good customer service!