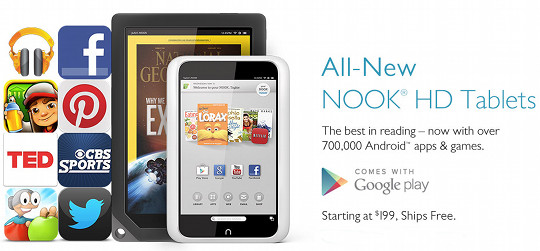 Barnes and Noble just did something that could very well resurrect the declining Nook brand.
In a surprise move that no one saw coming, Barnes and Noble has decided to make the Nook HD and Nook HD+ more appealing by adding support for Google Play for access to over 700,000 Android apps, including popular Google apps like the Chrome web browser, Gmail, YouTube, Google Maps, and more.
This is especially great news for anyone who already owns a Nook HD or Nook HD+. B&N has already started rolling out an automatic software update to add the Google Play store and Google apps to their suddenly relevant tablets. If you don't want to wait you can download and install the updates manually. Here's the update pages for the Nook HD and Nook HD+.
The Nook HD+ is one of my favorite tablets because of the unique 3:2 ratio screen size and the high resolution IPS display with 256 dpi. This is indeed going to make it a much more competitive tablet in the current marketplace because there's not a lot of options for larger tablets with high resolution screens in the $270 price range.
The Nook HD is suddenly a heck of a lot more appealing too with Google Play onboard seeing as how it has the highest resolution screen of any 7-inch tablet on the current market, especially since it has a memory card slot and sub-$200 price.
The only main thing that the Nook HD and HD+ tablets lack now when compared to similar tablets is a camera. The Nooks don't have cameras front or back.
Nevertheless, this is about the best move that Barnes and Noble could make. Their tablets have suddenly become relevant again overnight.
Check back soon for a complete review of the now Google-certified Nook HD+ after I get some time to test it out. What a pleasant surprise!