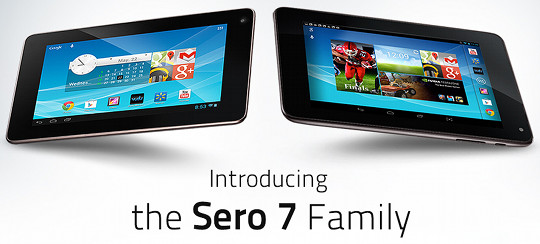 This past week Walmart stores have started selling two new 7-inch tablets from Hisense that have some really impressive specs for the price. In fact the Hisense Sero 7 Pro has similar hardware as the Google Nexus 7, and at a price point of $50 less. It even adds a couple of important upgrades over the Nexus 7 with a microSD card slot and mini HDMI port.
Other specs for the $149 Hisense Sero 7 Pro include a 1280 x 800 resolution screen, a 1.3GHz NVIDIA Tegra 3 quad-core processor, 1GB of RAM and 8GB of on-board storage, it supports Bluetooth and NFC, and there are front (2MP) and rear (5MP) facing cameras. The tablet runs Android 4.2 Jelly Bean and has a battery life estimate of 7-10 hours.
Those are certainly some of the best specs your are going to find on any 7-inch tablet, especially for the price.
The only two concerns I have is that I've never heard of Hisense before. From what I can tell this is their very first time selling tablets. The second concern is there's no mention about the screen tech. The resolution is good, but if it's not an IPS screen then it's not going to look nearly as good as the Nexus 7. If it has a cheap TFT screen with poor viewing angles it could ruin everything.
I plan on buying the Hisense Sero 7 Pro to review to find out if it is as impressive as the specs indicate, but apparently these Hisense tablets are only sold at Walmart, and none nearby have this model in stock yet so I'll have to wait. They do have the other new model in stock, however. The specs aren't as impressive with it but it only costs $99.
The cheaper model is called the Hisense Sero 7 LT. It has a 7-inch 1024 x 600 resolution screen, which is a step up from other sub-$100 tablets. It runs Android 4.1 Jelly Bean and is powered by a 1.6GHz dual-core processor. The tablet has 1GB of RAM and 4GB of on-board storage space. There's also a microSD card slot, a front-facing camera, and mini HDMI port. Battery life is less with this model, in the 4-6 hour range.
Both tablets come with support for Google Play, which is surprising for budget tablets at these prices. Once I'm able to get my hands on the Hisense Sero 7 Pro I'll let you know if it's worth getting or if it's better to just pay a little more for a name brand tablet like the Nexus 7.