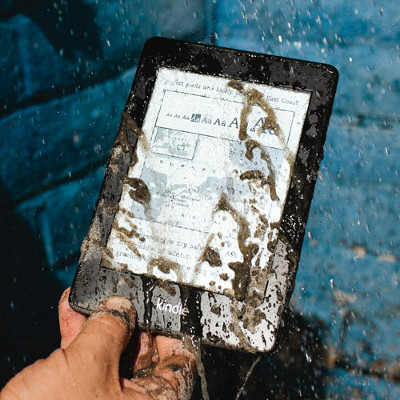 I've seen waterproof cases for the Kindle and other ebook readers and tablets before, and I've even heard of people putting their Kindle in a Ziploc bag to keep out moisture in watery venues, but now there is a company called Waterfi that is selling fully waterproofed Kindle Paperwhites out of the box.
A waterproof Kindle Paperwhite will set you back $220 for the ad-supported model and $240 without ads. There doesn't appear to be any 3G models, just Wi-Fi.
Each equivalent Kindle is sold for $100 less at Amazon so essentially you are paying exactly $100 for the waterproofing.
According to Waterfi, they use a dual layer internal waterproofing process to make devices both waterproof and corrosionproof. The waterproof layer is rated to depths of 210 feet underwater, so the Kindle can be completely submerged without experiencing any problems whatsoever. The waterproof layer also makes it so you can easily rinse dirt and crud off the Kindle simply by running water over it.
Waterfi is based out of San Diego, California and also sells waterproof iPods and Nike+ Fuelbands.
Personally I don't have the need for a waterproof Kindle, but I'll admit the idea sounds intriguing. Sony recently unveiled a water resistant tablet, the Xperia Tablet Z, so there must be enough of a market for them. A waterproof ebook reader certainly has an appeal to it at certain times, like when visiting the beach or lounging next to the pool. With this thing you could even read in the shower or underwater if you wanted to.
Update: The folks at Waterfi are going to lend me a waterproof Kindle Paperwhite to review. Check back soon for more details and a video review (let's see how well it works submerged in a fish tank :)).