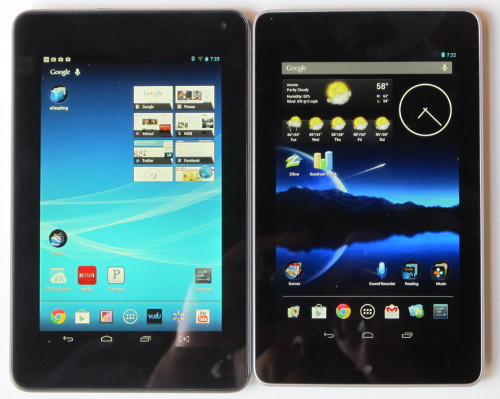 A few days ago I posted a review of a new 7 inch tablet called the Hisense Sero 7 Pro. I couldn't help but keep comparing it to the Nexus 7 in much of the review because the two tablets are so much alike, so I thought I'd go ahead and put together this comparison review to list all the similarities and differences in one place.
First and foremost, the Nexus 7 is at the end of its shelf life as Google is expected to release an updated model at any time. But I decided to go ahead with this comparison anyway because I wouldn't be surprised if Google keeps the original Nexus 7 around for awhile at a lower price (maybe $150) after they release the new model.
This comparison is more of a general summary rather than review. Check out the full reviews of the Hisense Sero 7 Pro and Google Nexus 7 for more in-depth details about each.
Nexus 7 vs Sero 7 Pro: Similarities
Both tablets have 7-inch 1280×800 ISP screens.
Operating systems are both Android 4.2 Jelly Bean, with full Google Play support.
Both have 1.3 GHz NVIDIA Tegra 3 quad-core processors.
1GB RAM.
Bluetooth 3.0.
NFC chips for transferring content by tapping device backs together.
GPS.
3.5mm headphone jack, built in speakers, microphone.
Wi-Fi.
Similar 7-10 hour battery life.
Micro USB port supports connecting peripherals such as keyboards.
Similar AnTuTu benchmark rating of about 11850.
Generally speaking the speed and overall operation of the two devices is about the same.
Exact same selection of apps and content.
Nexus 7 Advantages
Option for 4G mobile wireless through AT&T or T-Mobile.
Much more accessible and easier to buy; the Sero 7 Pro only sells from Walmart stores and not anywhere online (at least not yet).
More internal storage space: 16GB/32GB vs 8GB for the Sero.
More up-to-date software (Android 4.2.2 instead of Android 4.2.1 on the Sero).
The touchscreen supports 10 points of contact at once; the Hisense Sero 7 Pro supports 5.
Slightly smaller and more compact design.
Build quality feels a little more solid and the stippled textured on the back is nicer.
Slightly lighter at 340 grams to the Sero's 360 grams.
Much more recognizable brand name.
Sero 7 Pro Advantages
MicroSD card slot.
Mini HDMI port for streaming content to a monitor or TV.
Rear-facing 5MP camera with Flash.
Sells for $149 from Walmart, that $50 less than the 16GB Nexus 7 and $100 less than the 32GB Nexus 7.
Front camera is slightly improved with 2MP versus the Nexus's 1.2MP camera.
Screen colors and viewing angles appear slightly better (maybe it's partially because my Nexus 7 is 1 year old and a lot more used).
A couple of software tweaks include an on-screen button for screenshots and a power saving mode.
Higher Quadrant benchmark score: 4086 vs 3542 for the Nexus 7.
Video Review: Nexus 7 vs Sero 7 Pro