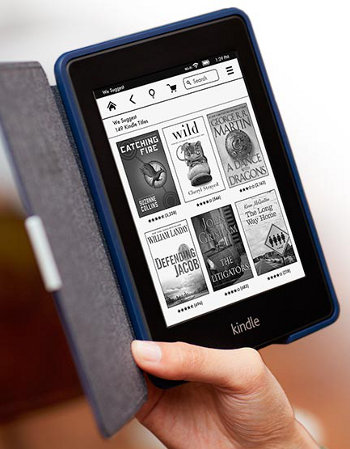 It's the middle of August and that means new Kindles are just around the corner. There have been numerous reports online about what features and specs the new Kindle Fire HD tablets could have, but there's been nary a whisper about what Amazon plans for the next generation Kindle Paperwhite.
Don't let the lack of rumors deter the idea of new Kindles, because there will most certainly be new models of E Ink Kindles this year like there is every year, (and Amazon cheated last year by essentially painting the basic Kindle black and calling it a new model, so we're overdue for something new on that model especially).
There's speculation that Amazon could release a larger-screen Kindle Paperwhite ever since they killed the Kindle DX and then brought it back from the dead to start selling it again. The firmware on that device is so old and outdated (2010) that if Amazon wants to continue selling a larger E Ink Kindle there comes a point where they must update it to a new model.
That's the first thing I'd like to see with the next generation of Kindle Paperwhites, a larger 9.7″ model as an option. The newer Kindles have much better PDF support than the Kindle DX ever did. Improve PDF support a little more and 9.7″ Kindle Paperwhite could be very popular in that regard. Plus a lot of people prefer a larger device for reading ebooks, especially people with vision problems.
The second thing I'd like to see Amazon add to the Kindle Paperwhite is audio support. That used to be a standard on all Kindles, but Amazon did away with it entirely on the Kindle Paperwhite. Bring back text-to-speech, MP3 support, and audiobooks would make a lot of folks happy. Of course Amazon would need to add more internal memory as well because audiobook files are quite large, and there's about zero chance they'd add a memory card slot.
Another thing I'd like to see on the new Kindle Paperwhite is physical page turn buttons along the sides. Ever since Amazon introduced touchscreen Kindles they've done away with any sort of page-turn buttons. Touchscreens are nice for interacting with a device, but sometimes nothing can beat a nice tactile button to rest your thumb on to turn pages with a simple press instead of having to reach for the screen to swipe every time. It would also be nice to have the option in settings to turn off the touchscreen when needed.
The last and most important thing I'd like to see with the new generation of Kindle Paperwhites is better frontlighting. The #1 complaint with the 1st gen Kindle Paperwhite is the unevenness of the lighting on the screen and the distracting discolored blotches that appear on some units. Amazon needs to improve on that to catch up with Kobo, whose frontlit ereaders are superior in terms of even light distribution and coloration. I don't see Amazon improving on the resolution this year given E Ink's available screens, except for maybe a larger Kindle, but if they could make the lighting better it could help a lot in terms of readability.
So what you? What features and improvements would you like to see on the next generation Kindle Paperwhite?