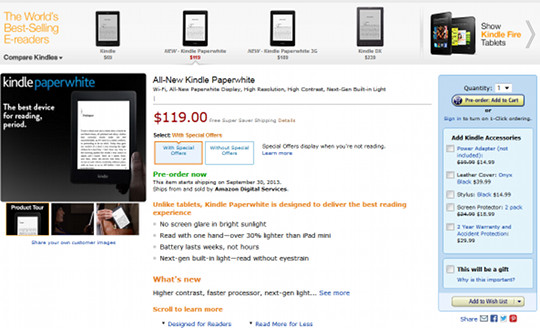 So I just got done posting the article about how the details have leaked about the 2nd generation Kindle Paperwhite.
At the time I was writing the article, the description page for the Kindle Paperwhite 2 at Amazon wasn't working, presumably because they discovered the leak and took it down. But then I was thinking about adding the link to the article in case Amazon used the same page url later on, and now suddenly it is working again.
In fact I just placed a pre-order for the WiFi Kindle Paperwhite 2 with special offers. I even got a confirmation email.
Amazon hasn't officially announced anything yet, but it appears that pre-orders for the Kindle Paperwhite 2 are underway.
Update: Amazon has now officially announced the All-New Kindle Paperwhite—The 6th Generation of Kindle.
I'm not sure what's going on exactly because from Amazon's homepage the Kindle links direct to pages where the new Paperwhite is not available and it doesn't even appear in the family stripe banner at the top of the page. But if I go to the new Kindle Paperwhite page directly it shows both the WiFi and 3G model.
Amazon has increased the price of the 3G Paperwhite, which is kind of strange. It used to cost $179 but now it's listed at $189. It's not showing available for pre-order yet, though. It just has a thing to sign up for email notifications when it becomes available.
Check out the previous article Kindle Paperwhite 2 Details Revealed for more information and a list of specs and new features.