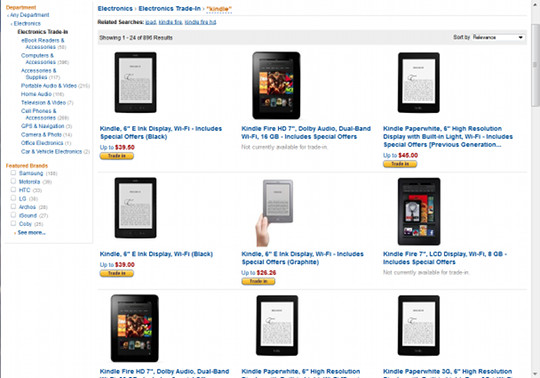 Amazon offers a trade-in program on their website for all kinds of items, including DVDs, textbooks, video games, music, and electronics. The latter category includes all kinds of gadgets, notably older Kindle models.
Some of the older Kindles aren't valued very high. Amazon will only give up to $26.26 for the basic graphite Kindle from 2 years ago. That's about all they offer for the WiFi Special Offers Kindle Touch too, as well as the WiFi Kindle Keyboard.
At that price you're better off just keeping it or giving it away. It's hardly worth the effort.
But not all the older Kindles are valued so low for trade-ins. A couple are priced so high that it makes you wonder if there is some sort of error with the system. One example is the 3G Kindle Paperwhite from last year. Right now the trade-in value for it is up to $105. However, if it has Special Offers it is only worth up to $45. That makes no logical sense. Theoretically you could just pay Amazon $20 to get rid of the Special Offers and then it would be worth a lot more.
Another good trade-in value is the WiFi Kindle Paperwhite from last year. It can get you up to $84. Like the 3G model, the Special Offers version is only worth up to $45. Again, the price disparity really doesn't make any sense given the differences are only software related, and easily changed.
Currently the highest trade-in value is the latest Kindle DX. It is priced up to $160. Given the fact it sells for $239 new, that's not a bad price, really. The black basic Kindle isn't a bad value either at $39.50, given the fact it sells for $69 new that's more than half the original cost.
But if you are looking to trade-in an older Kindle Fire, you're going to be out of luck. None of the Kindle Fire models are available for trade-in at this time, except one variation of the original model. Isn't that interesting? E Ink Kindles seem to hold their value a lot better than Kindle tablets. At least from a trade-in perspective.