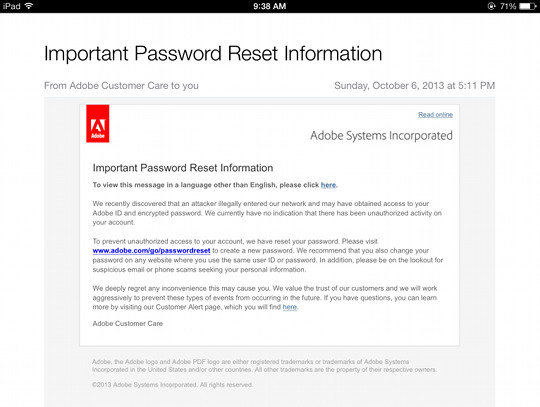 As if being forced to buy ebooks crippled by Adobe's DRM isn't bad enough, now Adobe's system has been hacked and all the Adobe DRM ID's and passwords have been compromised.
If you've ever been required to create an account with Adobe just to be able to read your purchased ebooks on the device or app of your choosing, then you probably received an email from Adobe over the weekend. Something along the lines of this:
We recently discovered that an attacker illegally entered our network and may have obtained access to your Adobe ID and encrypted password. We currently have no indication that there has been unauthorized activity on your account.
Adobe has already gone in and reset all the passwords; now users have to create a new one in order to regain access to their accounts.
Adobe also suggests that it's a good idea to change the password on any accounts that use the same email address and password combination as your Adobe account. The hackers have that information so it's no longer secure on non-Adobe websites too. Good luck remembering all the places that you use the same password and email…
An Adobe account for getting access to your purchased ebooks only requires you to give an email address and setup a password, so at least there's no credit card information given, but if you use the same password and email address combination for other websites then it could be a problem. That's why it's a good idea to use different passwords for everything.
This is just another obvious reason to do away with Adobe DRM entirely. It's not enough that Adobe is ruining your purchased ebooks by placing senseless restrictions on them and making publishers pay extra licensing fees. Now Adobe is comprising your personal information as well. A company that has nothing to do with ebooks is doing their best to ruin ebooks just so they can get in on the money generated by the ebook market. I say down with Adobe and their rigged DRM system. It's time to move onto something better.