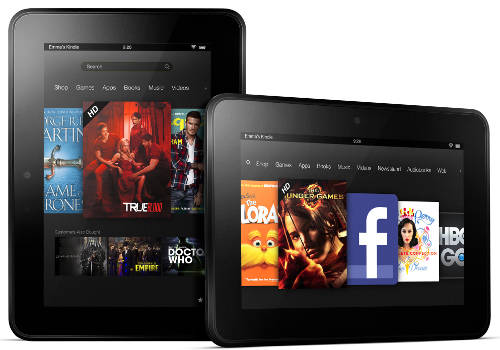 It looks like Amazon is attempting to clear out some of their older devices by running a sale on the Kindle DX and 8.9″ Kindle Fire HD. Both are priced lower than ever, so beware, if you've got an itchy buying finger it might be too hard to resist.
The best deal of the two is probably the 8.9″ Kindle Fire HD. At $229, that's the same price as the new 7″ Kindle Fire HDX. And it's $150 less than this year's 8.9″ Kindle Fire HDX. That extra cash gets you a higher resolution screen, faster processor, and rear camera, but let's face it, returns are diminishing at this point. The dual-core 1.5GHz processor and 254 ppi screen on the older model aren't exactly ancient technology. Plus it has a micro-HDMI port that is missing on the newer Kindle Fire HDX.
Still, the 9″ Nook HD+ would be hard to pass up at $149 compared to the Kindle Fire HD line, especially with the added microSD card slot and official support for Google Play.
On the surface a $189 Kindle DX sounds like a really good deal for an 9.7″ E Ink ebook reader. The hardware is still somewhat current with the E Ink Pearl screen. But you have to remember the Kindle DX was released way back in 2010. It has early Kindle software that hasn't been properly updated in years, pretty much since its release.
If you think the Kindle DX would make for a good PDF reader because of the larger screen, you would be wrong. The software for PDFs is ridiculously out-dated and feature-lacking.
However, if you're looking for a large-screen E Ink ebook reader to read ebooks, then the Kindle DX could be a good choice. The larger screen is especially good for people with poor eyesight or vision problems because you can fit a lot of large font text on the screen at once.
At $189 I'm even tempted to get one (it originally sold for $379), but then I remember how out-dated the software is and that changes my mind. If it just had current software it would be a great buy for a large-screen ebook reader. It's a shame that Amazon doesn't release a new updated Kindle DX with a Paperwhite screen.