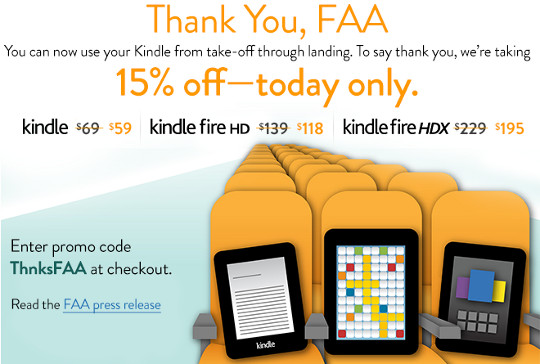 Amazon is running a promotion today only thanks to the FAA changing their policy to allow ereaders to be used throughout take-off and landing when flying. Amazon is cutting 15% off of the basic Kindle, the new Kindle Fire HD, and 7″ Kindle Fire HDX.
Amazon is also running a separate sale for the Kindle DX and 8.9″ Kindle Fire HD again, so if you missed out on the sale last month now's the time. The Kindle DX isn't priced quite as low as last time ($189), but at $199 it's still a heck of a lot cheaper than it used to be (when it was first released in 2010 it sold for $379, if you can believe that).
Keep in mind that the Kindle DX has a 9.7″ E Ink Pearl screen and 3G cellular, but no WiFi. Amazon keeps selling the Kindle DX for reasons unknown. The software is outdated and so is much of the hardware. You'd think that at some point Amazon would release an updated model if they keep insisting on selling it.
Here's how the deals break down; make sure to enter ThnksFAA in the promo code box during checkout to get the sale price:
$59 Basic Kindle – regularly $69
$118 Kindle Fire HD (2013 model) – regularly $139
$195 Kindle Fire HDX – regularly $229
Those sale prices are for today only, November 4th. The following sales are currently ongoing and could expire at anytime:
$199 Kindle DX – regularly $239
$229 8.9″ Kindle Fire HD – regularly $269
Here's a list of refurbished Kindles that are available at Amazon. Refurbished units are another good way to save money and they come with the same 1 year warranty as new Kindles.
It's not "on sale" but if you are looking for an old school Kindle Keyboard Amazon has recently started selling them again for $139. And that's the 3G model, which is the last Kindle to have the unique benefit of free internet access over 3G (the newer Kindles require Wi-Fi to use the web browser).