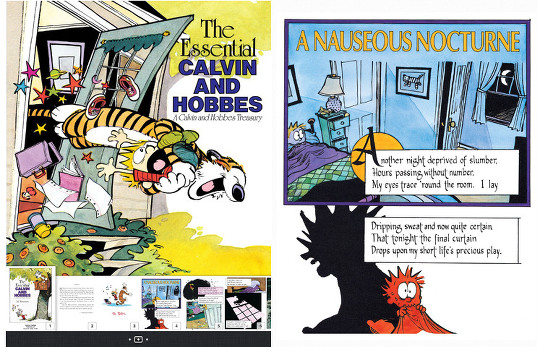 Here's a bit of good news for fans of the popular comic strip Calvin and Hobbes. The antics of Calvin and his stuffed tiger, Hobbes, have officially been released in ebook form.
Bill Watterson's Calvin and Hobbes daily comic strip was published for 10 years from 1985 to 1995. The ebooks don't quite encompass the entire series, but they come pretty close.
There are three separate collections of Calvin and Hobbes ebooks available: The Indispensable Calvin and Hobbes, The Essential Calvin and Hobbes, and The Authoritative Calvin and Hobbes, all of which have been available as paper copies for a long time.
Right now the three ebook collections are available from the following retailers:
They range from $11-$13 each from Amazon and Apple. Surprisingly Barnes and Noble has the lowest prices for all three at $9.50 – $11 apiece. I imagine other ebookstores will start carrying them soon as well.
I grew up a fan of the series and even have a couple of the paperback collections. I'll have to try out one of these ebook editions (once I decide which platform to go with).
I noticed that it says this at Amazon: "The cartoons in this e-book have been specially formatted for optimal viewing. The e-book will only work on color tablets and is not intended for viewing on desktop apps."
I can see them not displaying well on E Ink Kindles, which aren't even mentioned, but not displaying well on desktop apps? That seems kind of strange . . .